There are minimal options to choose from when selecting a sink (stainless steel, cast iron, etc.). Granite composite offers an exciting new alternative in this scenario. Stainless steel is hard to maintain, and cast-iron scratches too easily.
This is where Granite Composite sinks step in!
Composite granite is the product that provides customers with a way out. The composition of these sinks is of a determined proportion of natural stone and resin. This ratio is maintained so that the sink stands up to heavy use and looks great while doing it.
Are you thinking of getting a granite composite sink? Need more information before you invest in this product? We got you covered.
You will find everything here, ranging from what it is and where to get the best pick. Let's go!
What is a granite composite sink?
The material used for making sinks is a mixture of granite stone and acrylic resins. We can use different compositions of granite stone and acrylic resins. Change in composition results in a change in the quality of the finished product.
The composition of the material varies by brand. Most composite sinks have a composition of 80% quartz and 20% acrylic resin. These make the sink as heat, stain, and scratch-resistant as possible.
The texture of composite sinks
The materials used in the making of composite sinks give them a stone-like appearance. The surface finish of the composite sinks gives a matte, sanded down texture.
Composite sinks are mainly of black, white, grey, beige, brown, or ivory colors. Other color options are also available. The surface is smooth yet gives a crisp, granite feel to the touch.
How is Granite Composite different from other varieties?
There are so many varieties of sinks in the market regarding material, style, and cost. What makes granite composite sinks any different from them?
This section will help you differentiate between varieties easily.
Granite composite vs. Natural granite sinks
As the name suggests, natural granite sinks are almost entirely made of natural stone. Thus, they are heavier and require extra support for installation. Made from natural granite, each of these sinks is unique in texture and pattern.
Granite composite sinks have a ratio of granite to resin. This mixture makes them lighter and sturdier. They might not be as unique as natural granite but have an overall smoother and sleeker look.
Granite Composite vs. Stainless Steel sinks
Stainless steel sinks have always been in top demand, considering their life-long guarantee. These sinks are utensil-friendly, light, and dependable. However, they do not offer a variety of granite composite sinks do.
However, a granite composite sink is a statement piece for a kitchen. It might be heavier and require extra care, but it is similar to stainless steel sinks in terms of quality.
But in terms of aesthetics, natural granite is unbeatable.
Why is Granite Composite popular?
For the longest time, stainless steel sinks or quartz sinks have ruled the market. As amazing as the quality of these sinks is, the limited choice is a problem for clients.
With the introduction of Granite composite sinks, the market trend flipped.
These sinks offer a beautiful variety of colors and designs. Their durability and longevity is another bonus. Sinks made from granite are rich both in cost and appearance.
Granite composite has the same sleek finish, only smoother.
You may have to pay a premium-level price for these sinks. With positive customer feedback, you would not regret this investment!
Advantages of granite composite sinks
These sinks give a pleasant aesthetic to the kitchen. They also provide a beautiful alternative to traditional stainless steel or porcelain sinks. Composite granite sinks offer a lot of advantages. Some of the top-selling points of this sink are:
Variety
There is a wide array of options about sizes, shapes, and color options to go with your countertops. There are also many more choices when it comes to style.
Color
Composite granite sinks feature a uniform color throughout the material. Another bonus feature of these sinks is the color choice offered. Since human-made material makes a granite composite, it offers a wide range of colors like black, white, beige, grey, etc.
Non-porous
One amazing feature of granite composite sinks is their non-porous structure. Natural granite sinks require annual sealing to avoid abrasion and staining. Granite composite sinks, on the other hand, are manufactured to be more durable. They are also non-porous and long-lasting.
Resilience
Granite composite remains unmatched when it comes to durability and resilience. These sinks can withstand the impact of accidental drops and blunt force. This strength is due to the higher density of rock particles at the sink's surface.
Heat Resistance
Granite composite sinks are highly resistant to high temperatures. They can bear temperatures as high as 500 degrees Fahrenheit! So, hot pans and pots will not leave any burn marks behind, and it is also immune to discoloring or fading.
Chip and Scratch Resistant
The hard and dense surface makes the sinks durable. This feature makes it resistant to damages, including scratches, chips, and stains. So scratching or denting the hard surface of these sinks is simply not possible.
These sinks are, as you can probably guess by now, incredibly durable. Most people consider sinks a long-term investment. A granite composite sink seems preferable. Most people want to invest once or twice in these sinks, and then no need to worry about them.
Lightweight
Granite composite sinks offer the sturdiness of the solid natural stone. But, they are much lighter in comparison. That's a big reason why granite composite are preferred over natural granite.
Their lightweight nature makes them an ideal companion for smaller kitchens and bathrooms.
Disadvantages of Granite composite sinks
Composite sinks have a lot of significant advantages, as well as some drawbacks.
Hardness
The same property that makes these products stand-out can also be redundant. It may also cause a little inconvenience at the same time. These sinks are so hard that the glassware may end up breaking if dropped onto the surface.
So a little care is needed when you are washing glassware or china dishes.
Cost
The composite sinks offer exceptional qualities and premium service. So, they also cost more than other sink materials, for example, steel or porcelain.
Weight
Composite sinks are lighter than natural granite stone sinks. But they are heavier than stainless steel sinks. Composite sinks may need added structural support underneath the sink.
Uniformity
Is composite granite the product for you? If you are looking for a material that has a uniform color throughout, then yes!. But composite sinks do not offer the variation in the pattern that natural granite does.
Types of Granite Composite Sinks
It is easy to mold the sinks into almost any configuration due to the material's versatile nature. Whether you want a single bowl, a double bowl, drop-in, or under-mount, granite under-mount sinks are preferred for a cleaner, seamless appearance.
An avid cook or baker would desire single bowl granite sinks. A double bowl sink may be better for those who prefer separate prep and dish-washing areas.
How to clean a granite composite sink?
Composite sinks are designed with durability in mind. Still, regular cleaning is essential to keep them in good condition. A few steps can increase the useful life of composite sinks.
You should do regular cleaning, using a diluted vinegar solution or baking soda. These help you extend the life of your composite sinks.
Granite composite is easy to clean and preserve.
After each use, rinse the sink to wash away standing liquids and food particles. Use a soft cloth and gentle liquid detergent for the weekly washing.
While staining usually doesn't happen, in certain instances, it can happen. Much can be eliminated by using a heavily diluted cleaner to fill the drain.
For stains such as ink, remove instantly with a cloth dampened with denatured alcohol.
To prevent the build-up of contaminated lime, cover the bottom of the sink with vinegar and water. Then let it soak for a few hours.
Rub the sink until the stains have been removed, then wash with water.
Daily cleaning
The sinks need regular cleaning after every use. This regular cleaning will help you avoid the need to deep clean. For daily cleaning, use some soapy water and a sponge. Also, be sure to dry off after cleaning to avoid any stains or water spots from taking hold.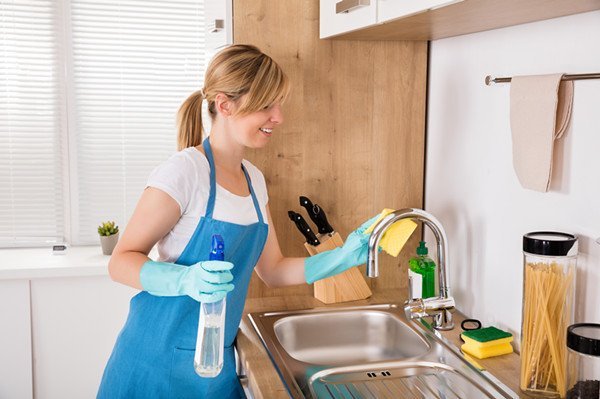 Make sure you keep cleaning these sinks. This is, so you maintain their shine, usability, and durable nature. It's also a good hygiene practice to be cleaning your sinks regularly.
How to maintain a Granite Composite sink
Yes, these sinks are sturdy and do not require sealing. However, over time they may require attention and maintenance depending on usage.
Hard Water stains or mineral deposits may lead to the formation of a white haze on your sinks. This is especially true if it is a dark color. This can be easily removed by applying a cleaner or a sealer. You do not need strong substances for this. Be sure to use a soft brush or cloth for these purposes.
These products are available online.
It is recommended you wipe any water residue from your sink after the usage for easy prevention. A little bit of maintenance goes a long way!
What should not use on a Granite composite sink
Some materials that you shouldn't use on sinks are abrasive materials and chemicals. Avoid these things to keep the sink at its best.
Abrasive materials
While cleaning your sink, it is essential not to use anything abrasive. Using anything abrasive would leave scratch marks on the surface of the sinks.
Harsh Chemicals
Granite composite sinks are highly resistant and durable. Yet, they are not as effective and resilient towards chemicals. Usage of harsh chemicals can result in de-coloring and damage the appearance of the sink.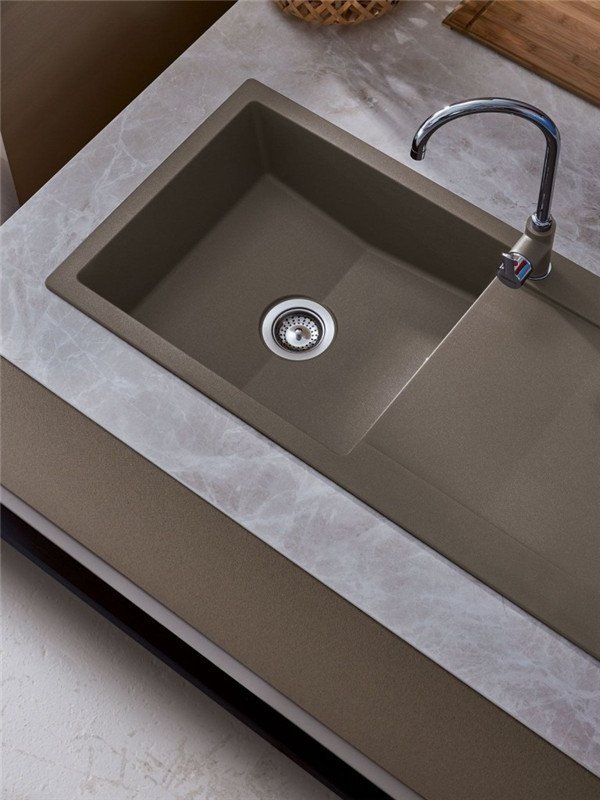 Best Brands on the market
There are already some of the best-known brands like Blanco, Shock, and so on in the market. But Chica Dragon provides the same quality with only half of their price! Here's why Chica Dragon takes the spotlight.
Granite Composite Sinks at Chica Dragon
Chica Dragon is a China-based company. Based in Foshan City of Guangdong province, they specialize in making these sinks. The composite sinks manufactured by Chica dragon are beautiful and cost-effective. They make granite composite sinks in a wide variety of colors and offer many shapes and types. The most important thing is they have got the best formula of making granite composite sinks in China.
Features of Chica Dragon Sinks
Installation
These sinks are designed for easy installation. They can be installed into both laminate and solid surface countertop materials.
Composition
The granite composite sinks are made of 80% quartz sand and 20% acrylic resin. This is the best composition that results in a hard yet lightweight material. There are also many different shapes available. You can find round, oval, square, and water drop.
Heat resistant
The composite sinks from Chica Dragon are heat resistant up to 535 Fahrenheit. They can withstand rapid temperature changes from hot to cold. This makes them the most resilient sinks being offered in the market.
Non-porous
Durable quartz material is used for making sinks by Chica Dragon. This material is non-porous. This prevents food residue from sticking on or staining the sink's surface. This non-porous quality also prohibits the spread of bacteria and germs.
Sturdy
These sinks are significantly stain and scratch-resistant. They also offer protection against blunt force or strong impacts.
Colors
The combination of natural quartz with pure acrylic resins provides deep, rich colors. Chica Dragon also offers a wide range of colors to choose from. For example, frost white, java brown, metropolitan grey, onyx black, and many others.
Cleaning
To keep the sinks in excellent condition, Regularly clean the sink with a cloth and soap-water. A mixture of half vinegar and half water will be effective against strains. Even with strains that persist after regular cleaning, it's your best friend.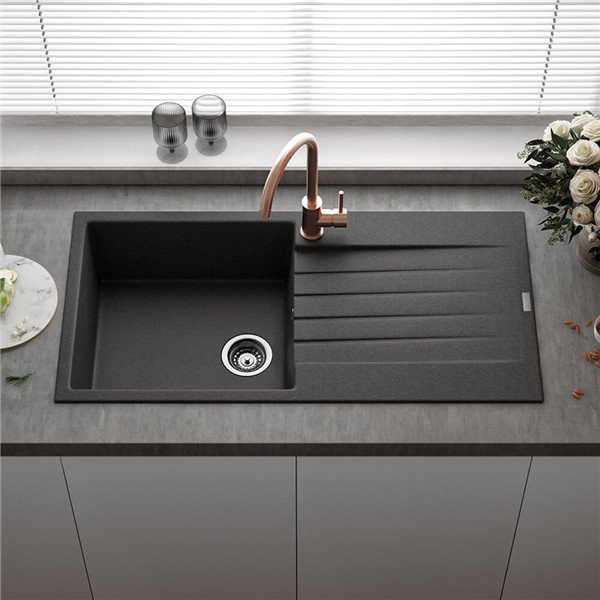 Granite Composite Sinks – Are They Right For You?
Every few years, you may feel the need to change your sinks, both in your bathrooms and your home kitchen.
Today, consumers will be pleased to learn they don't have to stick with traditional sink options. They don't have to stick to materials like cast iron or stainless steel.
Modern ingenuity has birthed a new class of sinks made from exciting materials. Granite composite is one of those exciting materials.
The fusion of certain elements into natural granite converts it into granite composite. The addition of materials like Nickel improves several qualities of these sinks.
Granite composite sinks are often far more durable than regular granite sinks. And even sinks are made of certain other materials, which also improve the look and feel. It also adds to the "must-buy" allure of these sinks.
There have been concerns raised over the costly nature of granite composite sinks. Customers looking to invest in these sinks often complain about their expensive nature.
However, there are many reasons why these sinks cost as much as they do.
For one, the durability of these sinks is usually off the charts. Very often, in kitchens and bathrooms, sink durability is a pertinent issue. These sinks can be subjected to weight and wear and tear consistently.
There are other reasons why they are worth their price as well. This includes their mold-resistant, heat-resistant, and scratch-resistant properties.
The reason why these sinks are so durable is because of their increased density.
All in all, these sinks are worth the investment.
If you explore your options in the market, you'll find that these sinks come in various colors. They also come with a standard finish.
You'll find black, white, brown, beige, and other colors as well. As for the finish, these sinks come with a standard matte finish. If you're looking for shinier sinks, you'll have to look into other options.
Granite composite sinks truly have revolutionized the sink industry. They've done so in more ways than one.
A lot of customers have complaints about both stainless steel sinks and cast iron sinks. They complain that cast iron sinks crack and chip too easily. Therefore, lead to a lot of monetary loss. At the very least, they cause an unsightly appearance for your bathroom or kitchen.
They also complain about the dullness and high-maintenance nature of most sinks. They find that stainless steel sinks are very hard to properly care for. They are also very hard to keep clean. Moreover, they tend to lose their shine if not properly cared for.
Granite composite sinks solve these problems for you. They are very durable, so they prevent chipping. Also, they have a very refined matte look. A lot of customers today prefer the matte look over glossy sinks.
If you're a wholesaler, granite composite sinks are a godsend for you. Customers looking to invest in sinks want something new and fresh. You can market these sinks as a unique solution to their concerns.
If you market these sinks the right way, they could sell like hotcakes. It depends on what you make them look like to customers. If you make them look like a unique solution to their problems, good things will come to you.
However, not all is shiny and sweet about these sinks. These sinks can chip as well if you treat them terribly. Other than that, they can stain because of white or blue residue. The residue can show on dark colored sinks. If your sink is black or dark brown, residue may be visible on it.
Education
Granite composite sinks are a relatively new addition to sink catalogs.
Until a few years ago, most people opted only for stainless steel or cast iron. Now, they have a unique addition to the market.
Granite composite sinks offer a solution to a lot of problems sink wholesalers face.
We've discussed the natural superiority of these sinks. We've discussed their durability compared to other sinks.
We've also mentioned the variety they bring to the sink market.
The perfect sink brings an entire kitchen together. While building a home, a kitchen sink is usually a one-time investment. People prefer a durable as well as a beautiful piece for their homes.
But there is so much more to a sink than its outlook. With hundreds of sinks available on the market, which one is the right choice? How do you pick products that help your business grow?
In terms of timely delivery and amazing quality, Chica Dragon stands undefeated. If you are a wholesale business owner looking for a one-stop-shop, visit them today.
Let's also discuss where you're going to buy your sinks from. If you're looking to buy sinks in America and Europe, you'll find a lot of standard types.
Sinks in American and Europe will also be relatively "safer options."
On the other hand, let's say you need to buy sinks in China. The main manufacturers are located in Guangdong province, Jiangmen city, and Foshan city.
We do recommend that you get a third party to evaluate Chinese sink factories. If you're looking to buy from a Chinese manufacturer, inspect their factories. This is mainly because not all dealers are honest. If you're not careful, you could be scammed.
FAQs
We tried our best to cover everything regarding Granite Composite sinks. We hope this FAQ section is a quick-fix for any queries left:
Are Granite Composite sinks any good?
Yes, they are! These sinks are the perfect cooking partner. They are designed to bear high heat, stain-resistant, require easy maintenance. Their composition makes them durable and long-lasting. So they are worth investing in.
Do Granite Composite sinks stain?
They are generally stain-resistant because of the non-porous structure. There are chances of hard water stains or discoloration of lighter colors overtime. But compared to other sinks in the market, they are comparatively less prone to staining.
Do Granite Composite sinks require sealing?
Natural granite sinks need to be sealed periodically. However, granite composite sinks are manufactured to be durable without any sealing required.
Can Granite Composite sinks crack easily?
Granite composite sinks are sturdy and heat resistant. They are not easily scratched or stained. However, they are not entirely indestructible! Mishandling of hefty and hot cookware, like a cast iron, can damage your sink.
Where should I buy my Granite composite sinks?
A Granite composite sink is a costly investment. You need to be sure you are getting your money's worth. Chica Dragon provides premium quality sinks to wholesalers globally. Their network is extended to 40 countries. They have excellent services from customer care to shipment.
Are Granite Composite sinks better than Stainless Steel?
Both these products have their own sets of pros and cons. We are tilted towards granite composite sinks. In terms of quality and durability, they take the lead. Stainless steel sinks are less expensive. However, the demand for granite composite sinks has increased lately. They instantly enhance the outlook of a kitchen.
Are granite composite sinks durable?
Yes, granite composite sinks are very durable. They provide a sturdy, safe option for your kitchens and bathrooms.
You can consider these sinks a one-term investment for sure. If you treat them right, clean them regularly, and care for them well, these sinks will last you a very long time.
Final Word
As a wholesaler or distributor, your primary concern would be to ensure quality. You want to provide your customers with a wide variety of options when choosing a composite sink.
Your primary challenge would be to identify quality brands with high-quality sinks. Those brands can offer a lot of different options for your customers to choose from.
At the same time, you'll need to be cautious of low-quality brands posing as high-quality brands. This would cause your business to lose face value. Consequently, customer retention would decrease.