Choosing a suitable kitchen sink for the home has become a dilemma. This is because there are several types of kitchen sinks to choose from. Let us shed light on some of the kitchen sinks available in the market. The classification of kitchen sinks includes
· Based on Installation method: Farmhouse style sink, Undermount sink, Top mount sink.
· Based on Material used in Manufacturing: Fireclay sink, Cast iron sink, Granite composite sinks, Stainless steel sinks, Solid surface sinks, Marble sinks,etc.
· Based on Bowl Configuration: Single bowl, double bowl
In this piece, we'll look at the similarities and differences between these sinks. Here's our take on Granite composite vs Stainless-Steel Kitchen Sinks.
Granite Composite Kitchen Sink Vs. Stainless Steel Sink
These two kitchen sinks are the standout sinks of the modern world. They derive their names from their component materials. Granite composite sink contains composite granite. Stainless steel sink has steel as its base material. Let us examine these two sinks in detail.
Granite Composite Sink
Composite sinks are those with a blend of a natural component and a resin. In this combination, the mineral content always tends to have the higher concentration. The natural component might be quartz, granite or the two.
Hence, you can't say quartz or granite sink because it wasn't from the mineral only. The term given to the finished product in sink form would depend on the manufacturer. Also the percentage composition of the single components play a part in the term.
Granite composite sink is an engineered combination. It contains crushed quartz, stone dust, and acrylic resins. The result of this blend is high durability, easy to maintain, stone-like material.
Granite composite sink is lighter than its counterpart solid granite sink. It contains 80% quartz sand and 20% acrylic, but mostly contains over 70% quartz sand. The acrylic helps bind the engineered components of this sink. Making the granite composite sink a homogenous piece.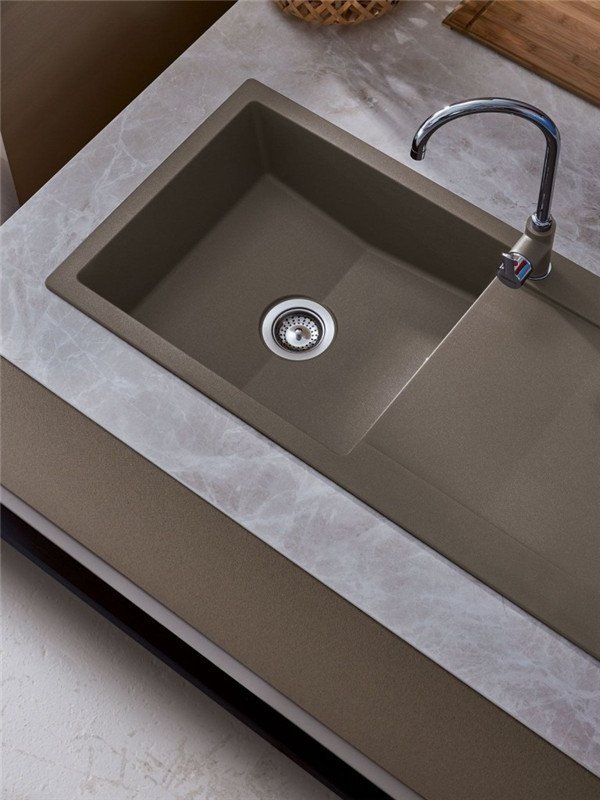 Types of Granite Composite Sink
Granite composite sink is both functional as well as aesthetic. Being a unique piece of kitchenware, granite composite sinks come in different styles.
It is malleable and can come in the form of any of the sinks mentioned above. Are you a fan of a single bowl, double bowl, or under-mount sink? You can craft your granite composite sink into any sink shape that suits your taste.
Benefits of Granite Composite Sink
Granite composite sink offers a lot to the kitchen space. It is beautiful and blends well with kitchen space and countertop. The benefits Granite composite sink offers to its users include;
· Heat Resistant: The kitchen is that part of the house where cooking takes place. Cooking involves heat. Heat resistance should be a major rule when choosing a sink for the kitchen. Granite composite sinks withstand temperatures above 500 degrees Fahrenheit or 260 degrees Celsius. Hot pots and plates would not leave any marks or cause discoloration of this beautiful piece.
· Stain Resistant: The ability to resist stain differentiates natural granite from Composite granite. Natural granite is porous. This porosity provides space for the stain to hide. Composite granite is non-porous. The compactness of the Granite composite sink makes it stain resistant.
· Resistant to Chip and Scratch. The presence of chips and scratch on the sink makes the kitchen area look untidy. Granite composite sinks are chip and scratch-resistant. This ensures your sink maintains its beauty throughout its lifetime.
· Malleable: The malleability of this piece of kitchenware makes it easy to change the shape into. It also makes the addition of other sink accessories easy. You can have holes pre-drilled for the addition of faucets and soap dispensers.
· Easy to clean: Keeping your granite composite sink looking brand new is easy. Cleaning this beautiful piece of kitchenware does not need any select chemicals.
· Durable: The durability of the granite composite sink is off the charts. The components of the sink, granite, and resins, are durable. The sink also resists change from external factors, making it an epitome of durability.
· Multi-color Options: There are different colors to choose from. Granite composite sink comes in multi-colors; white, black, coffee, gray, beige. etc. The color you choose should be dependent on your kitchen background and countertop.
Why We don't Like Granite Composite Sink
While this sink is everything one would want in the kitchen, it has some challenges. Those challenges include;
· Expensive: Granite composite sinks are more expensive than the solid surface sinks. The cost of this piece is due to the series of complex processes put into its production. The parts of this sink are also expensive, from the granite to the resins used for binding them.
· Bulky and Heavy. Granite composite sink is lighter than the natural granite sink. But it is still heavier than conventional kitchen sinks. Before installing this sink, reinforcing the area around your sink drop-in is necessary.
. Less Diversity: One reason why most person tend to shy away from composite sinks is lack of diversity. But stainless-steel sinks may come in different shapes or sizes. Yet Chica Dragon can provide you with customized designs and multiple attractive colors of the composite sink.
How to Take Care of Granite Composite Sink
Proper maintenance is essential to make the most use of a granite composite sink. The good news is that this sink is easy to maintain. Below are some ways you can maintain your granite composite sink.
· Rinse the sink after every use. This is to wash away standing liquids and food particles left on the sink.
· Do not use heavy detergents, abrasive substances, or metal scrub pads so as not to damage the surface
· Stain removal for Granite composite sinks is dependent on the staining agent.
Oil-based stains: This includes paint stains. Clean the stain immediately using a cloth dampened with denatured alcohol.
Lime buildup: Cover the base of the granite composite sink with a solution of vinegar and water. Leave the solution on the sink overnight; this would weaken the stain. Rub the base of the sink well with a stiff sponge and rinse with warm water.
You can remove most stains on granite composite sink using a diluted organic cleaner.
Stainless Steel Sink
Stainless steel has been the first-choice sink in most homes for a very long time. It is the most popular form of the kitchen sink.
There is a good reason (several good reasons) why this trend has been on for quite some time now. Let us explain some terms you need to know before going out to get a stainless steel sink.
Stainless Steel Sink Gauge
The term gauge as regards steel refers to how thick the steel is. The gauge for stainless steel ranges from 16 to 22. The lowest gauge has the thickest steel. This means that 16-gauge steel is thicker than 22-gauge steel.
It also means that the lower the gauge, the higher the steel quality. Getting lower gauge steel has its advantages over getting higher gauge steel. One of the advantages of getting lower gauge steel is its durability.
Stainless Steel Sink Grade
Unlike steel gauge, with steel grade, the higher the grade number, the higher the steel quality. The level of steel shows the percentage of chromium and nickel present in the steel. The 304 stainless steel is the highest grade of this sink material. 18/8 stainless steel contains 18% chromium and 8% nickel.
Stainless Steel Sink Series
The stainless steel series goes in tandem with steel grade. The best series of stainless steel is the 316 series. However, the most widely used is the 304 grade stainless steel.
There's also the 201. It's much cheaper than the 304 series. 201 is high in manganese, the surface is dark bright, so it's easy to rust. 304 contains more chromium, the surface is matte and does not rust.
Sink Radius
This is a term used to describe the interior angles of a sink. The higher the radius, the more curved the internal angle becomes. The more curved the tip is, the easier it is to clean the sink corners. A zero-radius sink has sharp right-angle corners. Other radii include 1/2″ and 1-3/4″
Types of Stainless Steel Sink
There are many types of stainless steel sink. The production technique determines the category a sink will fall into. The two include
· Drawn: Here, heated steel is in a mold and shaped to form a sink. It is the most used sink in American homes. Due to its production technique, it has a high diversity and can take on different shapes. The most interesting part is that it can come with custom specifications.
· Handmade: Sinks made through this process are of better quality. The quality is due to the uniformity of thickness throughout the sink. It involves cutting a steel sheet with hands. And then folding and fusing the corners by welding them to form the sink walls. It is labor intensive and needs a high level of skill.
Sink Finishes
The sink finish determines the sink's appearance. It also determines how noticeable scratches and chips would be on the sink. The most stainless steel finishes include;
· Mirror finish: This finish is shiny and attractive. Scratches and water spots are noticeable on the surface.
· Brushed and matte finish: This finish is duller. Its dull nature helps hide scratches.
· Satin finish: Has a glossy finish.
· Textured finish: This finish is not smooth, so it hides scratches and damages. Textured finish may be difficult to clean.
Why We Like Stainless Steel Sink
There is a reason why we and a host of other ardent stainless steel sink users like it. Below are a few of those reasons;
· Durable: Unlike other types of kitchen sinks, stainless steel sinks are very durable. This sink is very close to indestructible because it comes from a steel raw material. The grade, series, and gauge of steel also determine how durable the sink would be.
· Heat and Stain resistant: Steel has a high melting point. A stainless steel sink would not react to high temperatures, and this makes it heat resistant. Since the stainless steel sinks are smooth, it does not hold stains, making the sink easy to clean and manage.
· Does not Crack or chip: Steel is a resilient material. A stainless-steel sink is homogenous and non-porous. This makes it immune to cracking or chipping. It also means that it doesn't favor organism growth.
· Recyclable: Stainless steel sinks are recyclable. Since the sinks last a very long time, owners often take old ones to steel companies for recycling.
What We Do Not Like About Stainless Steel Sink
While there are many benefits to installing a steel sink in the kitchen, here are a few cons you might have to deal with;
· Prone to scratch and dents. Steel sinks might be indestructible, but they are prone to scratches and dents. Hard contact with pots and dishes often results in the removal of the finish applied to the sinks.
· Prone to water spots: When not taken care of, water spots appear on the kitchen sink. This challenge is noticeable mostly with mirror finished stainless steel sink.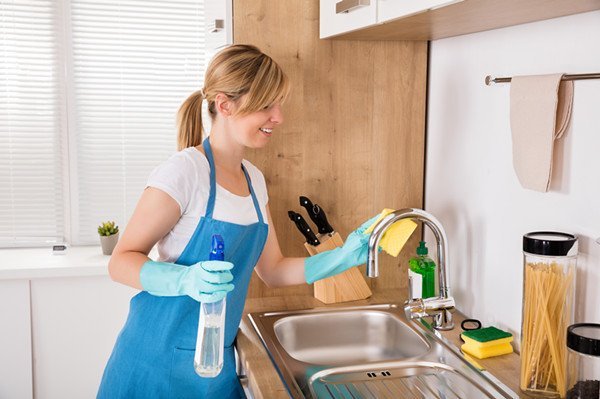 How to Take Care of Stainless-Steel Sink
· Wipe the sink after use to remove water spots and prevent food particles from sticking to the sink. The presence of water spots and food particles on the sink makes it look untidy.
· Use a sink grid to protect the base of the sink from scratch. Scratches could result from contact between kitchenware and sink.
· Avoid using bleach-based cleaners when cleaning the sink. Also, avoid abrasive materials like steel wool or wire brush. Using bleach-based cleaners may corrode the steel, making it appear rusty.
· Clean the sink using stainless steel sink cleaner to maintain sink sheen and quality.
· Do not allow wet sponges or dishes to dry on the sink's surface, as this could undermine the beauty of the sink.
Summary
It isn't easy to choose between granite composite vs. stainless steel kitchen sink. One might get lost because both units are excellent kitchen wares. But there are few disparities. This article shows that granite composite tops stainless steel in durability.
Also, in heat resistance, stainless steel gets discolored faster than granite composite. But steel has a higher melting point. Moreover, Granite composite sinks add glamor to your kitchen. It fits with most countertop gadgets installed around the cooking place.
The choice is always yours, but we want to believe you'd go for one that suits you best with the help of our educational article.