Your kitchen sink might be the most used feature of your house. For this reason, people tend to think about it before making a choice. If you're in business, you need to know each type's pros and cons and what your customers prefer.
This article will help you gain insight into what to offer your customers. I've discussed the pros and cons of different types of kitchen sinks.
Let's get right to it!
Choosing The Shape Of Your Sink
Farmhouse Kitchen Sinks
Farmhouse kitchen sinks consist of a single large basin. This basin also comes with an apron front. This apron front gives the sink a vintage vibe that people love.
You usually install it around 4 inches from the countertop, but it can also sit beyond the countertop.
A farmhouse kitchen is suitable for people who are shorter in stature. It is more accessible for kids as well. There are a lot of material and colour variations in it too.
Rounded Sink
These sinks have a perfect angle on the top of the sink near the countertop. The difference is that these sinks have rounded bottoms. The rounded bottoms make cleaning a lot easier. Also, the rounded bottoms also give the water a path to flow down. This means that all the water flows down and none of it remains standing in the sink.
Sink With Built-In Drainboard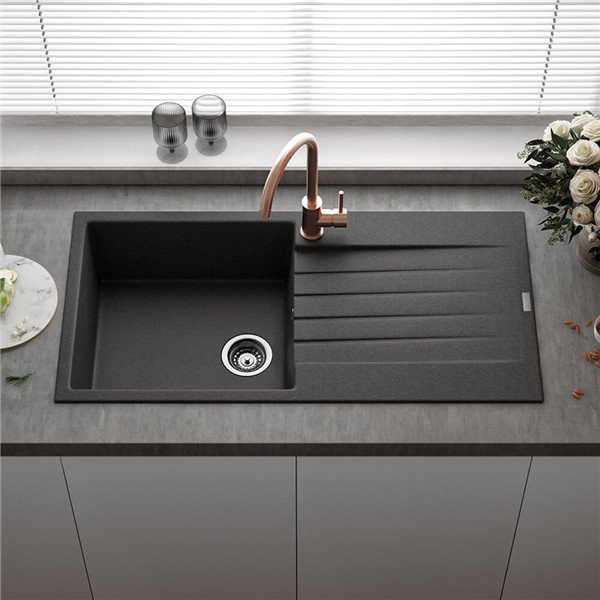 This kitchen design is for people who have many dishes lying around in their sinks. This sink comes with an attached drainboard on which you can place dishes to dry off after you clean them.
You can also use the drainboard to allow fruits and vegetables to dry off after you wash them.
However, at the same time, this sink is very wide and eats up a lot of countertop space. This can be problematic for you if you don't have a wide counter to place the sink on.
Number Of Basins
Single Basin
A kitchen sink with a single basin is one of the few alternatives that you can try. A single large sink offers you many advantages. For instance, you can easily wash big pots and pans in it. Moreover, you can prep large quantities of food in the kitchen sink.
According to Sharon Flatley, a certified kitchen designer: People mostly opt for a single deep basin which is around 33to 36 inches wide and 8 to 10 inches deep.
Such a sink can be very versatile, and it satisfies your needs whether or not you cook a lot. Such a sink satisfies many needs, and you'll most probably be happy with your experience.
Double Basin (Different sizes)
A two basin kitchen sink can help you in performing several tasks at once. You can be cleaning dishes and preparing food at the same time as such a sink.
Usually, when a double bowl sink has different sizes, the size distribution is either 60/40 or 50/50. Let's look at the pros and cons of each separately.
Two Basin Sink (60-40)
You can use the larger basin for cleaning your dishes and the smaller one for preparing food. The smaller basin makes it very easy to cut vegetables and prepare food in it.
If you're looking for flexibility, you should opt for a double bowl sink. This ratio is one of several different ratios that you can opt for when choosing a kitchen sink.
Two Basins (50/50)
This kitchen sink is for people who love perfection. You can actually perform several different tasks at the same time with such a sink. Since both the bowls are equal in size, such a sink also gives you a lot of working space and versatility.
However, with such sinks, you cannot wash very large pans. This is because it will not fit in the smaller basins of the sink. If you're used to such a sink, you should opt for it because switching sink types can cause complications.
Three Basins
In such a sink, there are two large sinks and a smaller basin for garbage disposal. You can use garbage disposal independently.
This type of sink makes the cleanup process extremely easy. Since the garbage disposal is very near, you don't have to keep switching from your sink to the dustbin very often.
Sink Material
Stainless Steel
This type of sink is extremely durable and easy to clean. The manufacturer can make it in different ways, either it can be a drawn sink or a handmade sink.
However, keep in mind that this material isn't resistant to scratching. The metal can easily scratch. Luckily, there are a lot of cleaners available for stainless steel. These scratches can be easily brushed off with the cleaners.
This material can last a long time and is a popular choice when it comes to kitchen sinks. Also, this material is versatile, and you can mould it into different shapes and sizes.
Porcelain Sinks
This is another material you can go for while choosing a sink. This material itself is beautiful, and it gives your kitchen a very vintage vibe. Also, it comes in many colours from which you can choose.
However, this material is a little fragile. The material can chip easily, and it leaves a black mark behind. Also, metal pans also can give the sink scratches that can prove to be very difficult to remove.
Granite Composite Sinks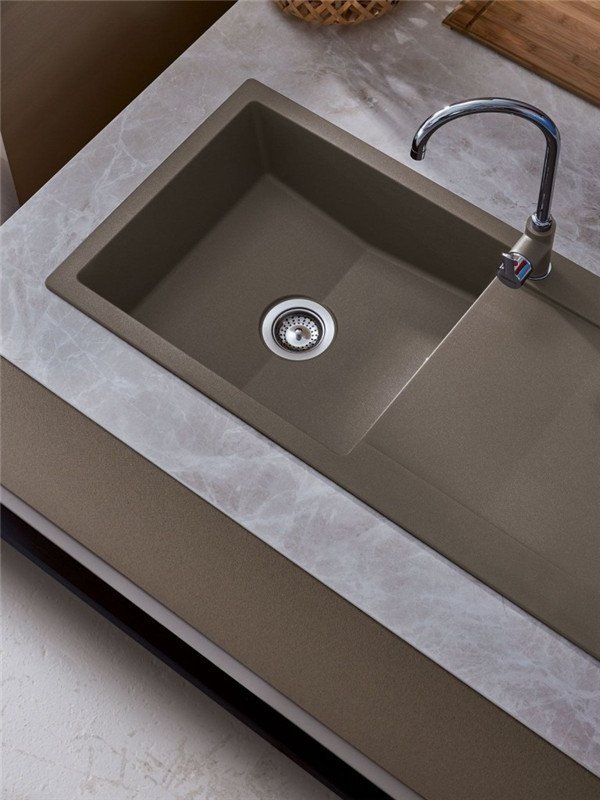 The manufacturer makes this type of sink with granite polymers and particles. It is durable and is resistant to chips and cracks. Moreover, it also doesn't show any water spots.
However, this material can stain easily, and it requires some maintenance. This material is good for places with hard water where the water leaves marks on the sink.
For a place with hard water, if you opt for a stainless steel sink, it will cause problems. The surface of the sink will start showing a lot of watermarks and spots.
Natural Stone Sinks
A natural stone sink is a fancy option you can go for. This type of sink can match your countertop exactly, and you can make it out of the same material.
This sink gives your kitchen a sophisticated look and also is very convenient. However, this sink is very costly and isn't entirely resistant to chipping. You will need some special cleaning products if you are to have this sink in your kitchen.
Fireclay Kitchen Sinks
You fuse clay and glaze together to manufacture this material. You can use it in farmhouse kitchen sinks.
It is resistant to acid and alkalis. Moreover, it is also non-porous, which means it will be easier to clean. It is very durable and chip-resistant to a certain extent.
However, this sink is available in limited colours and sizes. Also, the material is quite hard, so if you drop any dish in the sink, it has a chance of breaking.
Also, the sink is costly, and the installation is complicated.
Concluding
You actually have many options when it comes to kitchen sinks. I have discussed some in this article.
Just know the market before opting for a certain kind. As I've discussed earlier, some places need special types of sinks due to the natural conditions there.
I hope this article helped you in the decision-making process of what to go for.
Good luck!