While a workstation sink might look like your ordinary sink, they offer much more. These sinks come with an assortment of accessories that improves their general functionality.
Workstation sinks are the current trend in sink designs, and this trend is merited. With the workstation sink, a sink is no longer just a place for dirty dishes.
A workstation sink's standard accessories include; drying rack, colander, cutting board, and bottom grid. These accessories help maximize the use of kitchen space, making sure the kitchen is always tidy.
Clients go for a workstation kitchen sink for the following reasons; increased workspace, Keeps the kitchen more sanitary, functional storage, and improved safety. This write-up shows you what to check out for the best workstation sink.
Having said this, let us examine the best workstation sink and how to select them.
What are Workstation Sinks?
Do you want a sink that would make organizing the kitchen easier? Then search no more.
A Workstation sink provides multi-function for the kitchen. Those accessories clutter up the kitchen space, including drying racks, colander, cutting board, bottom grids, etc. Workstation sinks come with these accessories meaning you use less space than usual.
Factors to Consider When Choosing A Workstation Sink
Sink size
The sink's size determines its weight and the amount of space it takes in the home. Likewise, the bigger the sink, the more items you can fit into it.
A workstation sink is an ideal sink as it meets the balance between size and utilization.
Accessories
A workstation sink becomes an ordinary sink without its accessories. When buying a workstation sink, you should go for ones that come with accessories. A workstation sink without an accessory would cost more in the long run. This is because you would have to buy the accessories yourself. The basic accessories that should come with your sink include colanders, dish drying racks, dish grids, and reversible cutting boards.
Sink Material
Your kitchen decoration plays a huge role in the sink material you choose. There are three main materials used for the production of workstation sinks;
· Stainless steel
· Fireclay
· Granite composite
Stainless steel
If you are looking for a shiny piece of sink that is durable, then a stainless steel sink is for you. Stainless steel is one of the materials used for making sinks. The sink is common today because of its cost-effectiveness.
One drawback of this material is its tendency to rust when exposed to the kitchen's wet conditions. Scratches are also visible on its surface. It lasts longer when managed well. Proper management involves wiping down after use.
Fireclay
This is a good material for your workstation sink because it is rust-resistant. It is shiny and durable. Sinks made from fireclay material scratch and chip easy. This means that as the sink ages, it loses its beauty.
Granite Composite sink
The granite sink is the epitome of durability, for it's made from a combination of granite particles and resin. Granite composite sinks keep their beauty over a long period. They are dent, chip, and scratch-resistant. Granite composite sinks are also resistant to high levels of heat.
You do not like the sound kitchen utensils make when they hit the bottom of the sink? Sinks made from granite dampen sound. It reduces the sound of the impact of utensils on the sink to the least.
Granite composite sinks come in a variety of colors. This ensures you choose a color that suits your kitchen décor. This sink is heavier than sinks made from other materials for its stone texture.
Sink Accessories
Accessories are what make the workstation sink stand out. Without these accessories, it is a conventional sink. After choosing the sink material, you consider the accessories you need in your sink.
While all workstation sinks have accessories, some boast the complete set of accessories. Below is the list of accessories and their functions;
Colander
It is also called a pasta strainer or kitchen sieve. With its holes, you can use it to strain foods such as pasta. You could also use it to rinse vegetables and fruits.
Its perforated nature ensures that liquid drains out while leaving the solids inside. The colander comes in different designs. But they all perform the same basic function of straining food items.
Cutting board
Also called chopping board. You could cut or slice your food items on this protective surface. Wood, plastic, or cork are the materials used for making this accessory.
In a workstation sink, the cutting board also serves to provide more countertop space. You could also use this accessory to block off the basin of your sink from view. The downside to using cutting boards is that it dulls your knife's sharp edge over prolonged use.
Sink grids
It is also called Basin racks. You place this accessory inside the sink basin. This accessory buffer the sound pots and pans make when they hit the bottom of the sink. It serves as a drainer too.
It protects the surface of the sink from scratching and chipping. These happen when kitchenware like dishes and pots make contact with the sink surface. With sink grids, your sink retains its beauty for longer.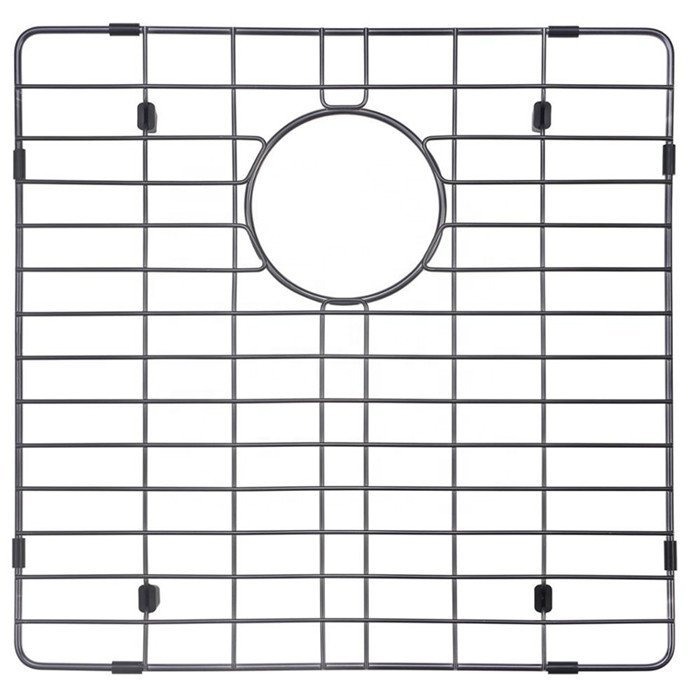 Drying racks
As the name implies, this accessory's use is as a surface for drying kitchenware. This is a multifunctional accessory.
You can use its surface to wash, produce and prepare food. You could also place your spoon on it when making food. You can leave your washcloths and sponges on this rack to dry out.
The new trend in drying racks is the roll-up rack. You can roll up this rack after use. This means you do not need extra storage space for it.
Irrespective of the sink material, all these accessories are important. The best workstation sink should have these or ledges for their easy attachment.
Best Workstation Sink Manufacturer
There are many producers of workstation sinks. But some companies and manufacturers stand out due to the high performance and quality of their products. Like Chica Dragon, a manufacturer known for its solid top-quality heavy-duty stainless steel and high-density granite composite makes durable and rust-resistant sinks.
Conclusion
Choosing the best workstation sink is a task that requires a bit of research. There are many things you should consider when going for the best workstation sink. However, this write-up makes the job a whole lot easier. The information here is an elaborate step to take if you know how to choose the best workstation sink.