Thanks to the increasing maturity of production technology, the production and applications of quartz stone abroad have become very common.
In reality, there are no more than 20 manufacturers in the world that specialize in quartz composite sink production.
However, hundreds of manufacturers in China emerge in recent years. But many of them are not genuine quartz composite sink manufacturers.
This article will help you learn the specific quartz composite sink production; then, you can differentiate whether a supplier manufacturer the fake quartz composite sink.
What Is The Performance Of Fake Quartz Stone Sink?
First of all, the most distinct feature of fake quartz composite sinks is that they use Glass instead of quartz. This is the most apparent property that can distinguish a genuine sink from a fake one.
Quartz is a crystal, not a glass. Glass and crystals have different properties. Glass is a vitreous substance. On the other hand, quartz is an atomic crystal.
A lot of manufacturers use hillock stone instead of quartz crystals. People use the hillock stone to adjusted the color instead of quartz crystal as the raw material.
Hillock stone mainly contains Calcium carbonate as a filler. Calcium carbonate is a fragile material with low hardness. It is easy to break. This will decrease the overall quality of your sink.
What Is The Production Process Of Real Granite Composite Sink?
Various production processes form different densities of the sink. These alternative production methods are discussed below.
Low-Pressure Forming
This method yields a sink with a density that is lower than 1.5g/cm3. This density is too low for a sink, and the final product is slightly light. In addition to that, the sink will be easy to deform, bleed, and will not be stain resistant.
High-Temperature Casting Forming
High temperature and high-pressure pouring is another method of production. Sinks made from this procedure are a little denser than the other. They have a density of around 1.5-1.8g/cm3. This density is relatively better than the previous one, and the sinks come out better.
This is a good production process for quartz stone sinks in China at present. The sink density is more or less sufficient too, and it won't break as easily. The sink can also achieve the so-called scratch resistance and will also develop stain resistance and resistance to color changing.
Moreover, the sink will also be impervious and will have better drainage.
Additionally, the anti-oil effect used in this production method is excellent. There are some advantages of this alternative, but it is not the absolute best found in the market.
Vacuum High-Pressure Forming
The best process for making quartz composite sinks is the vacuum high-pressure foaming technique. The density for this sink is 2-2.35g/cm3. The cost of the equipment of this manufacturing process is very high, so it is rarely used in China. But the quality of sinks is exceptional, and customers are never dissatisfied.
In China, the relevant machinery hasn't been appropriately introduced yet. You may have seen quartz stone vacuum high-pressure equipment being produced and sold in China. However, the equipment that is available here can only make quartz slabs, like quartz countertops.
For a sink, it needs to be able to form curved surfaces in a particular shape. The relevant equipment needed is found rarely, and the sinks made with it are extremely expensive. This is also because there are generally a lot of specifications to manufacture a sink mold.
Because of this unavailability of equipment for sinks, you can feel an actual difference between the sink surface and countertop surfaces' texture because the molding process is also different. There are almost zero manufacturers in China that use this production process for quartz composite sinks.
Chica Dragon's Production Process
Chica Dragon has adopted the high-temperature casting forming process to manufacture its quartz composite sinks. Now that you know the difference between each type, you will be better able to decide which type of sink to look for.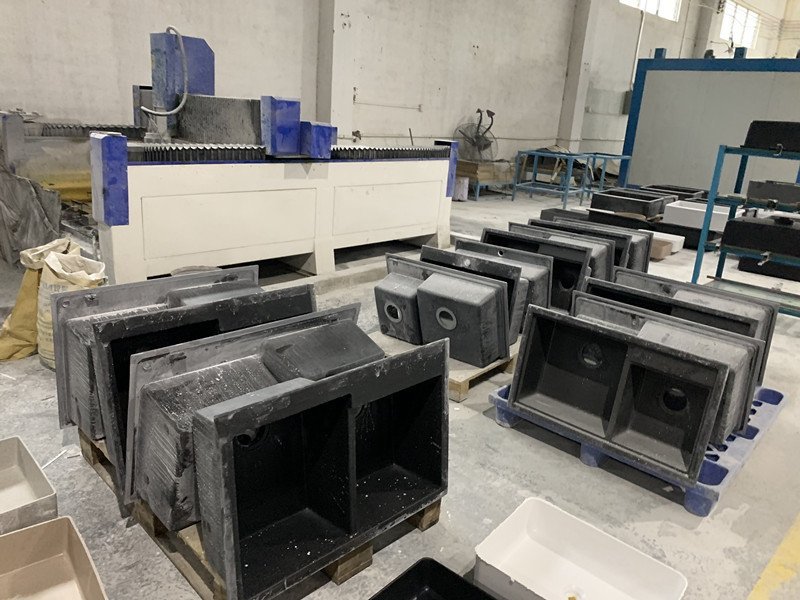 The sink has undergone constant improvement by R&D personnel. At this point, Chica granite sinks have perfectly solved all problems that are persistent in other brands of sinks.
These problems include stains, porosity, and cracking. Moreover, there is no color difference and no incomplete fillings. We promise that there will be no uneven patterns from production on the sink when it arrives at your house.
Chica granite sink is a big hit in the US, Europe, and Australian markets. We have now decided to bring this product to China to have genuinely good options to choose from.
FILL IN THIS FORM TO REQUEST A QUICK QUOTE FROM CHICA DRAGON
Conclusion
There are many sinks available on the market, and a lot of people will lie about their properties.
To avoid being lied to, you need to know precisely what you are investing in.
Chica Dragon is the best and safest company to buy products from. We have continuously improved our products until they have reached perfection.
You will not be disappointed!