You need to be familiar with all the available options in the market while buying a stone sink.
In this article, we talk about three different kinds of kitchen sinks made from artificial stone that one can buy to enhance their kitchen's beauty.
People have different preferences. Some of them prefer using stone sinks, but the sinks available in the market are mostly human-made. We will introduce three kinds of artificial stone sinks that you can buy.
Let's get right to it!
Artificial Marble Sink
Composition
Cultured marble is human-made, blending crushed with dyes, stones, and resin. A combination of resin with pigments gives this marble a wide range of colors and natural-looking patterns. Cultured marble is widely used for bathroom accessories.
It is cast into molds, unlike quarried stone, to create specific pieces such as backsplashes, sinks, shower walls, shower pans, and bathtubs.
Beauty and Strength
Cultured marble is durable as it is non-porous, which makes it resistant to stains and extremely tough. During the casting process, different patterns and designs can be incorporated that create depth and portrays a natural look that makes the final product look beautiful.
Low Maintenance and Economical
Cultured marble can be cleaned with non-abrasive products, so it is cost-effective and requires low maintenance. Compared to slab marble, cultured marble is less expensive to design and install. It gives a valuable style to the home the way natural stone products do.
Cultured marble is molded to form different shapes, so it offers a wide range of designs and color options to fit one's demand or needs.
Downsides
However, it is prone to scratches and is a bit inferior in hardness that affects its appearance compared to natural stone. Frequent changes between hot and cold temperatures lead to cracks and damage in this marble since it is made of stone powder. So the shrinkage performance of cultured marble is low.
If the marble is used for the cabinets, it is recommended not to put hot utensils over it. Otherwise, the stone loses its shine and gloss and affects its appearance.
These sinks sustain scratches as it is hard for scratches to appear on natural stones. But even if they do appear, they can be repaired with ease by properly sanding the sinks.
Granite Composite Sinks
A granite composite sink is three times harder than a natural stone. Production of granite composite sinks involves mixing granite stone dust and acrylic resins into a sink form. The process involves heating and molding of minerals and resin. It contains the label "composite stone," " quartz sink" It comprises 80% quartz sand and 20% acrylic.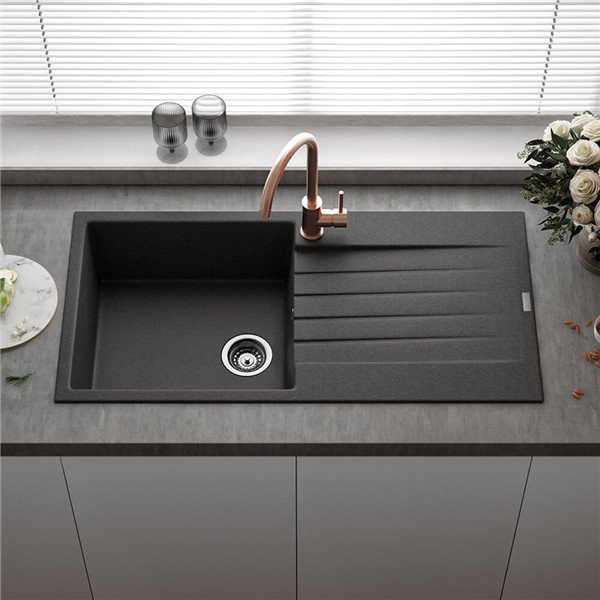 Granite composite sinks depict a non-porous feature that helps with sinks' anti-bacterial aspect and ensures hygiene. It is also microbe-resistant since it is compact. So it does not allow bacteria to grow on it. 
Benefits
These sinks provide tremendous value to their users because of how easy they are to work with. Granite composite sinks come in different colors, designs, shapes, and sizes that provide its customer with variety and allows them to buy sinks that complement the interior.
A composite granite stone has a uniform color, unlike granite that has slight variations in its color. This gives a sustained look. Granite composite sinks cost lesser than natural granite sink. This provides value for money and is affordable to a larger segment of the market. Granite composite sinks are durable and hardwearing.
They carry long-lasting qualities, ensuring that the customer won't face the issue of wear and tear. They are resistant to chips, heat, and stains. Therefore, they come in different textures and can be chiseled, carved, smooth, or sculpted.
Every piece is unique, so one doesn't have to concern regarding uniqueness.
Downsides
However, these sinks are uniform in color, so their color and designs cannot be played. It doesn't feature variations the way natural granite does therefore making it hard to recreate the look of natural granite with them. Granite composite sinks are hard in texture, which means they can break glassware when dropped on the sink.
While its color uniformity might give some of its potential users a bold look, the rest might think that the granite composite does not offer variations compared to natural granite. So people who prefer natural looks over uniformity might not like granite composite sinks.
A granite composite sink is cheaper than natural granite sink, but its price is still higher than stainless steel and porcelain. So it might be considered costly when compared to these types of sinks. Granite composite sinks carry high weight than stainless steel.
It might require additions in the structure to support its weight. This adds up the cost, and the added structure might ruin the intended look.
Solid Surface Sinks
Solid surface sinks are made from solid synthetic sheets. The process involves mixing mineral compounds and polyester or acrylic resin. It is most widely used for the seamless countertop.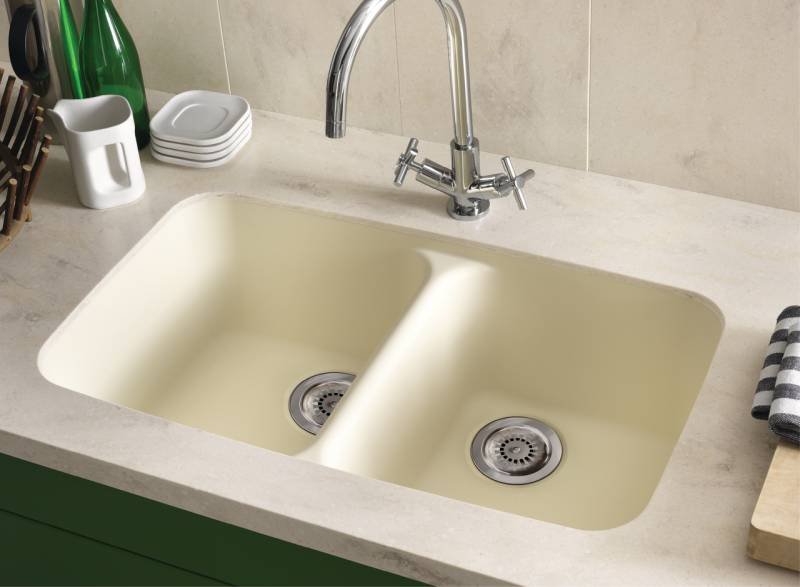 Benefits
A solid surface sink is constructed in a way that is formed using a single piece of material. So there are no naturally occurring seams that can make these sinks vulnerable to damage. So it is hardwearing and long-lasting.
Besides, these sinks tend to block UV rays, so there is no threat of their color fading. Solid surface sinks offer variety since they are mostly made with polyester or acrylic resin, allowing the creation of different shapes and designs.
Some of these sinks can be designed to imitate other materials such as stones and porcelain. The non-porous element of these sinks prevents the outside bacteria and material from seeping in. So there is no fear of stains.
The sink's smooth surface helps clean up, so it proves to be hassle-free and prevents any bacteria from building up. So these sinks are easy to clean and don't require high maintenance.
Downsides
However, these sinks are prone to scratch and chips. A slight impact such as slicing vegetables without a chopping board would cause dents on the sink's surface. Therefore tools such as knives can't be used without the fear of scratching the surface.
Solid surface sinks have a low resistance to heat, meaning that high-temperature utensils would cause big trouble for them. It can only hold boiling water for a short period, so hot pans can cause deformation.
These sinks are prone to discoloration due to the same reason. So with time, they start losing their charm and don't give a beautiful look. Discoloration also makes them look old and untidy.
Lastly, solid surface sinks lack resilience and strength compared to natural stone sinks. These sinks pale compared to granite composite sinks. This affects the durability of these sinks.
Conclusion
Granite composite sinks are good to go if one is looking for a solid and durable kitchen sink.
These sinks tend to handle the heat from the cookware on their surface without causing deformation. These sinks also offer a high level of durability due to the high density of rock particles at the surface.
It is the most scratch-resistant sink in the market that gives value for money and easy cleaning.