There are many options to choose from the installation method of a kitchen sink, such as undermount, drop-in, or farmhouse. It is difficult to determine which one is best for you. This article will discuss all the details about the drop-in sinks and help you know more about this type of sink.
What is a Drop-In Kitchen Sink?
Drop-in sinks are sometimes also called top mount sinks, overmount sinks, and self-rimming sinks. A drop-in kitchen sink gets its name because it "dropped" into the countertop, and the edge rests on top of the countertop. The sink is held in place by a lip or rim around the edge to rest on top of the countertop.
Drop-In Sink vs. Undermount Sink
Drop-in sinks have a visible lip or rim around their perimeter on the countertop. This perimeter lip supports the weight of the sink and holds everything in place.
Undermount sinks are installed at the bottom of the countertop and secured in place with heavy-duty clamps and caulk or special adhesives.
The edge of the sink cutout is entirely exposed, and the top of the counter drops off directly into the sink basin.
Drop-in sinks tend to be easier to install than undermount sinks as long as it is a one-for-one replacement. We provide the detailed installation method of a drop-in sink installation below.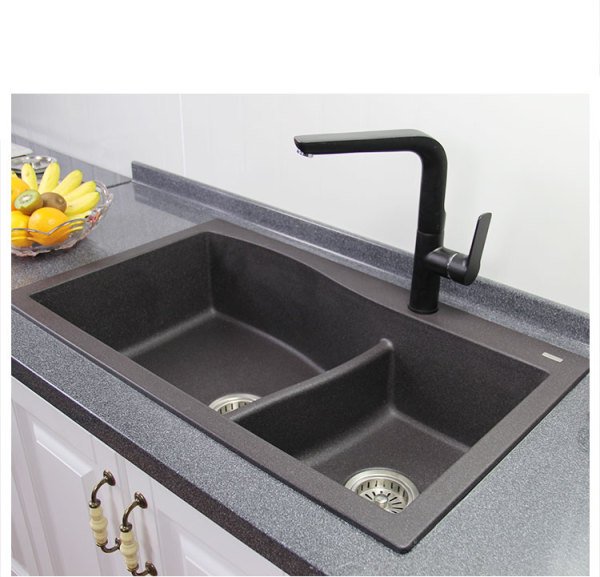 Benefits of Drop-in Sinks
Here are three benefits of drop-in sinks:
1. They Are Versatile
Drop-in sinks are available in a wide variety of materials, colors, and configurations.
They come in stainless steel, granite composite, porcelain, and more. Drop-in sinks are also customizable; they can be single, double, or even triple basin. Depending on the sink's design, faucets can be mounted directly on top of the countertop or made with holes to accommodate other types of faucets and fixtures.
2. Drop-In Sinks Are Easy to Install
Drop-in sinks tend to be easy to install so that homeowners can install a drop-in kitchen sink on their own. After cleaning off all the old caulk, put down a bead of caulk, place the sink in the hole, center it, and secure it with clips under the countertop. Most importantly, they tend to install faster than other types of sinks.
And, because their edges rest on top of the counter and there are clips underneath, a drop-in sink does not usually need extra reinforcement.
3. They Tend to Be Cost-Effective
Drop-in sinks are cost-effective because they are one of the most common types of sinks. The sinks themselves tend to be cheaper, and so does the installation usually. They are easy to clean and re-caulk as needed for maintenance.
Are Drop-In Sinks Going Out of Style?
When some people think of a drop-in kitchen sink, they may consider an inexpensive stainless steel sink in their first apartment or starter home. However, many sink manufacturers offer stylish drop-in designs that look great in the home of a modern kitchen.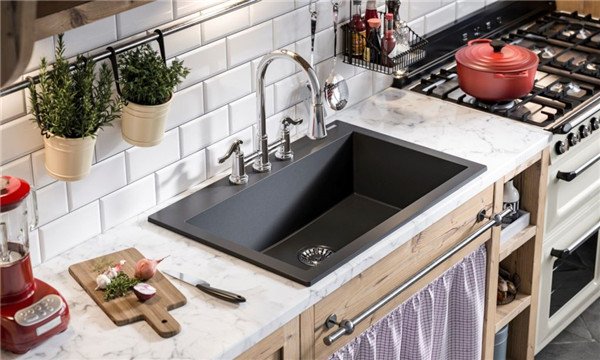 Many companies offer dual-mount models installed as a drop-in or undermount sink, such as select models from the Chica Dragon series.
Although undermount sinks are in growing popularity, drop-in sinks are still worth considering for kitchen remodeling.
Drop-In Sink Installation
In most cases, installing a drop-in kitchen sink is less complicated and less expensive than an undermount sink. Here's are a few things to keep in mind when choosing a drop-in sink.
Drop-In Sinks Work With Any Countertop Material
Drop-in sinks work with any counter material, including tile and laminates.
Undermount sinks are best suited for solid surface countertops since tile and laminate counters are not designed to have exposed cutout edges.
Do Drop-In Kitchen Sinks Need Support?
Most drop-in sinks are supported by a sink rim that extends beyond the sink edge and rests on the countertop. This typically eliminates the need for under-the-counter support or professional installation, making drop-in sinks a popular choice for do-it-yourself types.
While the countertop fully supports most drop-in sink styles, some heavy materials (like granite composite) may require additional supports under the sink. Be sure to do your homework to figure what kind of support you need when installing a kitchen sink.
Hidden Countertop Cutout
Since the cutout for a drop-in sink is covered by the rim, it doesn't need a cosmetically perfect finish.
With undermount sinks, the edges of the countertop cutout are visible, so they must be carefully finished for a good look. The hole for a top-mounted sink can be rough because no one will see it, so you will save time and money when building the countertop and installing the sink.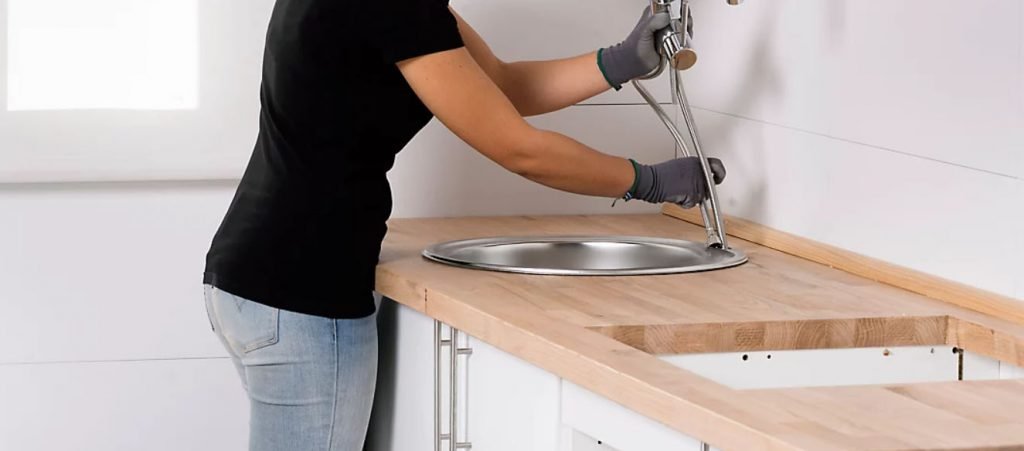 Faucet and Hardware Considerations
Many drop-in kitchen sinks come with holes for the faucet and soap dispenser, eliminating the need to drill separate holes in the countertop. This simplifies installation and reduces costs, but it also limits the customization options. In addition to being easier to install, undermount sinks are easier to remove if you change your mind.
Cleaning a Drop-In Sink
There's nothing special about cleaning a drop-in sink, but it's worth remembering that the edges of a drop-in sink form a gap where food particles and liquids can easily be collected.
The benefit is that the area is clearly visible, so it's easy to see when you need to clean around the sink. Undermount sinks have hidden seams, making it a little more challenging to stay on top of keeping it clean.
A distinct advantage of undermount sinks is the ability to wipe dirt from the countertop directly into the sink – no lip to get in the way. This makes the countertop easier to clean and is a major selling point for undermount kitchen sinks.
Best Drop-in Sinks Manufacturer
Chica Dragon is a China-based company that entered the market in 2008. They researched the science behind drop-in sinks in great detail. Afterward, they applied this research to make top-quality granite composite sinks and stainless steel sinks.
The Quality offered by Chica Dragon is unmatched. They only provide superior quality products. Moreover, they also offer OEM service and a complete supply chain.
Another great thing about the company is how they treat their customers. The company has a lot of brand loyalists as well because of the Quality it offers.
Furthermore, the company's reviews are also great. They accommodate their customers exceptionally well and always deliver on their promise.