Granite composite sinks are among customers' top picks today due to their durability and unmatched beauty.
Quality granite sinks are both scratch and chemical-resistant. This means you won't have any after-sale issues when the deal was done.
However, too many options are available in the market, so choosing the right product for purchasing becomes a little tricky.
Choosing suitable granite sinks manufacturers is essential. I think this buyer's guide will help you make the decision.
What are Granite Composite Sinks Made Out Of?
Granite composite sinks are made by mixing fine quartz sand with a bonding agent-acrylic resin. Most manufacturers use a mix of 80% quartz sand and 20% bonding agent.
It's under a heat and molding process that makes an engineered stone material with many of the same qualities of granite while offering better durability and easier maintenance. Granite sinks are more affordable than natural solid granite.
Sometimes it may be called 'quartz sink' or 'composite sink'; they are in a sense the same thing.
The appearance of Granite Composite Sinks
Unlike the natural granite sink, granite composite sinks have a very uniform look and still retain the warmth and charm of natural stone.
Granite composite kitchen sinks have a beautiful "sandy" look that will match with many different decors. Most composite sinks have the appearance of a lightly textured matte finish.
Unlike natural stone, manufacturers can customize the color of granite composite sinks. This comes out with a wide range of unique colors.
For example, Chica Dragon granite sinks are currently offered in 9 unique color choices. We've highlighted our favorites below.
You can explore more designs of Chica Dragon's granite composite sink series on their website.
Granite Composite Durability
Granite composite sinks are heat-resistance,scratch-resistance, and shock-resistance. The uniformity of the material makes it won't chip like natural stone. Granite composite has excellent heat resistance. Most manufacturers state that their granite sinks can withstand 530 °F (about 276 °C).
Small chips and cracks may occur from strong shocks. In many cases, small cracks can be repaired with an epoxy filler tinted to match the sink.
Granite composite material is tough, but it's still necessary to use a stainless steel bottom grid for extra protection.
Maintenance and Cleaning Granite Composite Sinks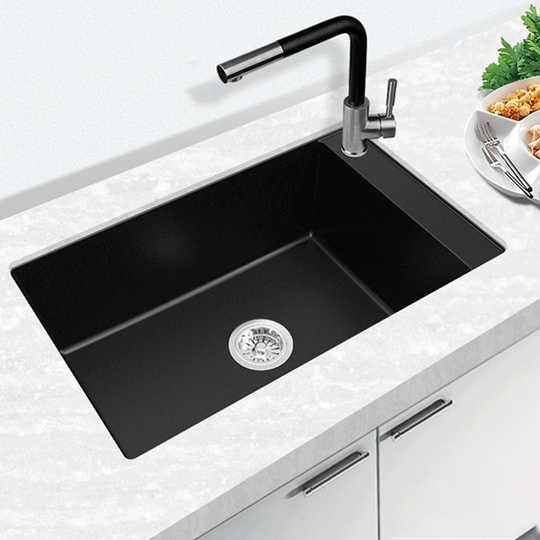 Unlike solid granite, the nonporous structure of granite composite makes it easier to clean and maintain.
Most stains and messes can be cleaned by using gentle cleaners and soft scrubbing pads or microfiber cloths. Don't use steel wool and wire brushes.
Some manufacturers recommend Bar Keeper's Friend and Soft Scrub as they are a little strong but are safe cleaners for granite composite sinks.
Keep the sink stay dry after every use will help avoid stains or mineral buildup.
Granite kitchen sinks will be benefited from the occasional use of mineral oil after deep cleaning. This is especially helpful with darker color sinks when it comes to restoring their shine and luster.
Although composite sinks are pretty simple to maintain, some cleaning agents may damage the surface of granite composite sinks. Be sure to carefully read the manufacturer's care and cleaning instructions that come with your sink.
Granite Sink Cost
Most of the granite sinks range from $200 to $400. This is relatively affordable compared to other premium sinks options such as cast iron or fireclay.
In somehow, the cost varies on size, mounting style, and basin configuration. Undermount and farmhouse (apron-front ) sinks will tend to be more expensive.
Granite Composite Sink Noise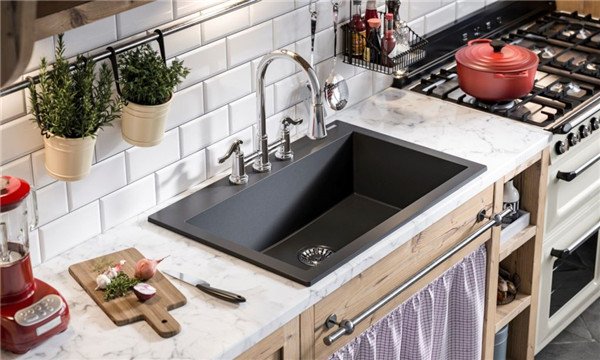 One of the most outstanding advantages of the granite composite is its sound-absorbing properties. Granite sinks are very quiet compared to other kitchen sink materials.
The noise from running water and placing dishes in the sink is much less than stainless steel sinks.
Granite Sink Installation
Installing a granite composite sink is relatively easy. Keep in mind, however, that they are much heavier than stainless steel. Granite sinks may require additional structural support under the counter.
If you are not sure if your counter can handle the extra weight of a composite sink, it is best to hire a contractor to do the job.
Granite Composite Pros and Cons
Granite sinks will work beautifully in most kitchens. But there are some advantages and disadvantages of these sinks.
Pros of granite composite sinks
Heat resistance; will not happen of discoloration when exposed to high heat.
Resists scratching, acid, chipping, water spots, and staining
With a variety of color options
Long life
Look and the durability of natural stone at an affordable price.
Cons of granite composite sinks
May require extra support for installation
Require regular (but simple) maintenance
Lighter colors may stain; if not cleaned regularly, the surface may darken due to water-based minerals.
Which Granite Composite Sink Supplier To Choose?
In general, some major granite kitchen sink brands like Blanco, Elkay, and Kraus will be a good choice. They are all well-known brands that offer a solid long-term value. But if you are a distributor of those brands, there are little profits to sold.
There is a trustworthy manufacturer of granite composite sink in China. It's Chica Dragon:
Chica Dragon is a China-based company that entered the market in 2008. They researched the science behind stainless steel sinks in great detail. Afterward, they applied this research to make top-quality kitchen sinks.
The Quality offered by Chica Dragon is unmatched. They only provide superior quality products. Moreover, they also provide OEM service and a complete supply chain.
Another great thing about the company is how they treat their customers. The company has a lot of brand loyalists as well because of the Quality it offers.
Furthermore, the company's reviews are also great. They accommodate their customers exceptionally well and always deliver on their promise.
FILL IN THIS FORM TO REQUEST A QUICK QUOTE FROM CHICA DRAGON