Black granite sinks are very popular, and they are the height of good European taste. This is the kind of sink that is often needed for locations like wet bars or for kitchens that have the right modern theme. This is a sink style that is not offered by all sink makers, and you might need to know more about this kind of sink before you shop for it and order it.
There are various models of European style black granite sink that you can choose from, and you need to know which sink style is right for the job at hand before you order. These sinks are durable and well-made and look beautiful in lots of different countertops and locations in homes and apartments. When you are familiar with this kind of sink style, you will not have trouble finding the right sink for your needs.
If you are ready to learn more about European style granite composite sinks, you need to keep reading.
European Black Granite Composite Sink Styles
European black granite styles are some of the most popular sinks that you can to choose from that are made with this material. The size of the sink and the added functionality designs can impact the locations where they are meant to be used. Since this sink is so durable and well-made, you will only need to be concerned with what kind of location you need a sink for and not whether or not the sink that you choose will hold up well to use.
Granite composite is tough enough for use in the kitchen or the wet bar and also beautiful enough for use in a bathroom or another space that does not have to do as much work as the kitchen. This is a material that does not require much care, and that can tackle all kinds of jobs without complaint.
Single Bowl Granite Sink
This is one of the most popular black granite composite sinks in the European market because it is so versatile. You can easily place this sink in a bar area or in a kitchen, or even use it in a bathroom. The single drain hole is ideal for fast drainage and easy cleaning. This is also a great choice because it works well with all kinds of faucets and other sink hardware. This is a simple sink to install that will hold up well to daily use and the challenges of the kitchen environment.
The average size of this sink is 18 7/8" x 17-3/4" x 8-1/4". This is not the only size that you can look for, but it is the most common size that is selected.
Single Bowl Granite Sink With Drainboard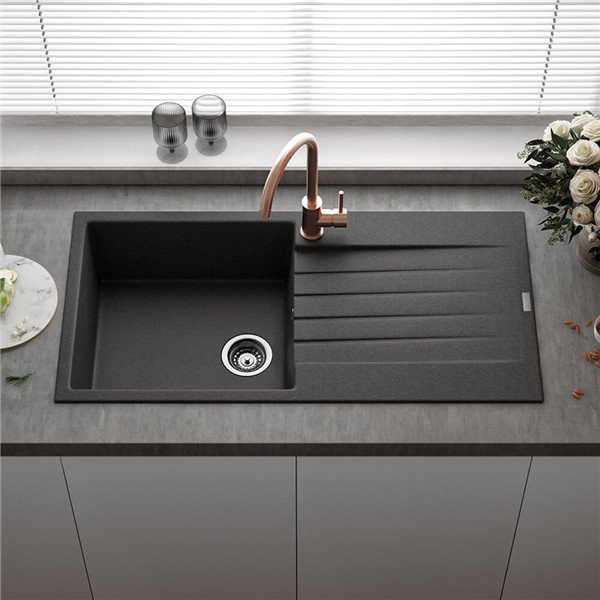 If you need a sink that offers a practical workspace as well as easy draining and a deep bowl that is perfect for lots of different cleaning and cooking needs, this is the right sink to pick. The sink itself is durable, and the washboard area is perfect for all kinds of different functions. This is a nice size sink as well since it will fit into so many different locations without issue. The most common two sizes for this sink style are 33-7/8" x 19 5/16" x 9" and 30-11/16" x 18 7/8" x 9". This sink works with most common sink fittings and accessories as well.
Double Bowl Granite Sink with Drainboard
This is a really nice large sink that can be trusted to handle tough jobs and offer lots of space for clean-up and other workhorse tasks. This is also a really beautiful sink that looks sleek and elegant, and that offers lots of workspace alongside the sink without impacting the styling of it overall. This sink comes in many sizes from most makers, and it can be as small or as large as you need it to be in most cases. This is also a really good choice for a gourmet or large kitchen that will require access to a really superior sink product.
This sink works well with standard faucets and fittings and can be trusted to be installed readily. This sink is also not going to make lots of noise when in use if it has the right padding and insulation on the underside of the sink. Sinks sold without this feature might make too much noise to be pleasant to use.
Chica Dragon Offers Customized Designs
If you have been looking for a sink that is not like the sinks listed above, you need to reach out to Chica Dragon for your custom sink order. The sink styles that you have already learned about can be made by Chica Dragon as well as lots of other beautiful European style black granite composite sink products. There is nothing like working with the skilled team at Chica Dragon for a sink ordering process that is easy and seamless. You will be able to find exactly the sink that you have been looking for without any issues, and you can trust that your order will be shipped promptly and securely. This is one of the best ways to get unique sinks as well as standard European sink styles and designs made with quality composite materials.
European Granite Composite Sinks Are Stylish and Durable
There are few sink products as well-made and beautiful as the European style granite composite sink. These sinks are beautiful when made in colors like black, and they can offer a sense of sophistication that many other sink styles cannot. There is something so elegant about a black sink, and the durable and tough granite composite materials of these sinks will hold up to lots of different uses.
If you have been looking for a European style composite granite sink, Chica Dragon can help you to find the right products for your needs. With great designs, a simple ordering process, and an easy custom ordering process, there are a few sink manufacturers that can offer you more for your money.