Selling kitchen sinks is perplexing because of the variety that the market offers. There are many variations you can go for.
One of these variations in the farmhouse kitchen sink. These sinks are famous because of their size and ease of use. They're a popular choice among customers also because they serve multiple purposes.
In this article will show you everything you need to know about farmhouse kitchen sinks.
Let's dive right in!
What Are Farmhouse Kitchen Sinks?
A farmhouse kitchen sink is a type of sink with an exposed front-side or "apron". This apron extends out over the cabinet underneath it. Because of this apron, farmhouse sinks are also known as apron sinks.
Farmhouse sinks are a bit larger than traditional sinks, also deeper. Moreover, it doesn't have any holes to accommodate faucets.
Difference Between an Apron Sink And a Traditional Sink
Back when dishwashers weren't invented, people used to spend hours washing dishes. Usually, clothes were also washed in the same sink.
Since the sink had to be multipurpose, it needed to be big. This gave birth to the idea of a farmhouse sink, which is usually deeper and larger than other sinks. A typical farmhouse sink can range between 20 to 60 inches in length.
The most common width for a farmhouse sink is 30 inches, but it depends on how big your counter is.
There are several differences between a farmhouse sink and a standard sink. A farmhouse sink is a drop-in sink, with an exposed front side. It's literally like a small tub which can fit in your customer's kitchen in place of the sink.
Modern farmhouse kitchen sinks are rectangular in shape. Their shape is rectangular to maximize the usable space of the sink. The unique selling proposition of the sink is that it has a considerable size and is versatile.
Farmhouse sinks are generally available in the form of single and double basin sinks.
Best Material For Farmhouse Kitchen Sinks
As we mentioned earlier, farmhouse kitchen sinks come in a variety of materials. This will offer you more insight into the material to go for and the pros and cons of each material.
Stainless Steel
The go-to choice for any homeowner is the stainless steel sink. The sink looks great and is very easy to maintain as well. The material offers additional designs with a matte and a smooth finish.
These sinks also are resistant to chips and cracks. Moreover, they are resilient against acidic foods. This increases their durability and makes the material even more attractive for homeowners.
Furthermore, the cleaning effort going into the sink is minimum, and the customer will be happy with the ease.
Granite Composite
Granite composite sinks are another option you can go for. Granite composite is the best material when it comes to scratch resistance. The sink offers extreme scratch and chemical resistance.
Although you might need to pay a high price for it, these sinks provide the most durability. This durability comes from a high density of rock particles on the surface of the sink. You can go for this option if you plan on selling more durable sinks.
Others
Other options you can go for is porcelain. Porcelain sinks use ceramic material which is usually heated at high temperatures. The look is similar to fireclay sinks, but these are less durable. Because of this reason, the sinks might be cheaper.
Another option is the fireclay sink. The manufacturer heats clay at an extremely high temperature. This heating makes the sink durable and hard. The material is also resistant to scratches, rust, fading and chipping.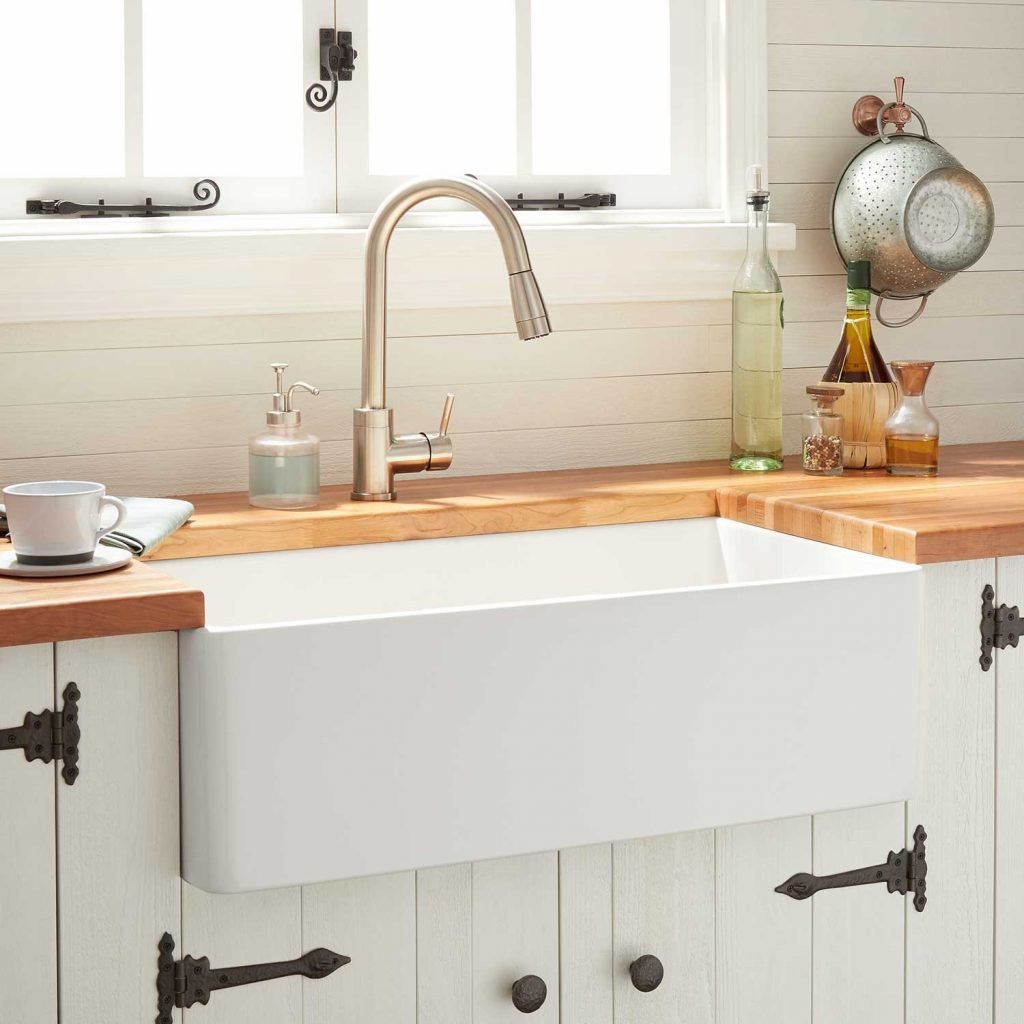 Installation Process Of Farmhouse Sinks
Farmhouse kitchen sinks have different installation processes. These installation methods are usually brand specific. This means that the customer will need to consult the manual for more insight.
Generally, you first need to make cuts of appropriate sizes in your counter. Next you need to make sure that the sink rests on a firm surface. The customer will probably have to install supporting cleats too.
You might also need to alter the waste plumbing components. The directions of how to do this are also included in the instructions manual.
Farmhouse kitchen sinks come in multiple variations. Each type of sink has a different installation method. You can only determine the exact method by consulting the installation manual.
Are Farmhouse Sinks Going Out Of Style?
I can safely say this: The classic farmhouse kitchen will never go out of style. This option became more popular in 2019 due to the new material it came in: concrete.
According to data, searches for concrete furniture went up by 50 per cent on the website in 2019. This material also popped up in farmhouse sinks, along with several others. This surprising material has allowed farmhouse kitchen sinks to be in style again.
You do not need to worry when it comes to selling your sinks. Farmhouse kitchen sinks are an elite option to go for. Homeowners with different expectations from a sink will have their needs satisfied. This is because of the other material variations that the sink offers.
The design is also space-efficient, with minimum leaning. This makes it easier to do kitchen work and makes the farmhouse sink a popular option for customers.
What's The Standard Sizes For Farmhouse Sinks?
A farmhouse sink can range anywhere in between 20″ to 60″. The most common sizes used are in the range of 30″ to 36″. People with different uses for a sink go for other measures as well. The most common sizes are what the customer prefers the most.
The rest of the decision is up to you, and you should make it after conducting a market analysis.
Pros And Cons Of a Farmhouse Kitchen Sink
Aesthetic Appeal
Farmhouse kitchen sinks are aesthetically pleasing. They add a touch of beauty to any kitchen. These sinks have the potential to become the focal point of a kitchen. Farmhouse kitchen sinks are popular mainly because of their unique design and aesthetics.
Larger Basin
Farmhouse kitchen sinks are actually more suitable for bigger families. Families who use large pots of cooking or have many dishes will probably enjoy a farmhouse kitchen sink. The deep bowl is big enough to fit in all the dirty pans and pots easily.
The deep sink also means that the customer probably won't have water splashing all over him. Another use for the basin is that you can soak many dishes together.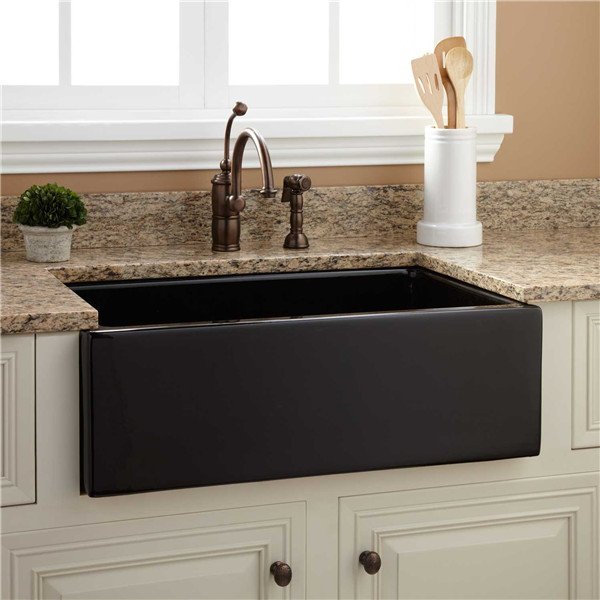 Easier To Work With
Farmhouse kitchen sinks are usually installed at the edge of the counter. This means that unlike other sinks, no part of the counter will come between you and the bowl of the sink. This is thanks to the exposed front-facing side of the sink.
This actually comes in handy as you no longer have to lean over the counter and strain your back to wash the dishes. This comes out as a big pro for the sink which many customers will probably enjoy.
Convenient Installation
The customer installs farmhouse kitchen sinks beneath the counter. This means that the sink usually comes a little below the countertop. This low level makes it a lot easier to wipe crumbs and puddles of water right into the sink.
Variety
There are many options when it comes to the material of farmhouse kitchen sinks. Multiple options include stainless steel, granite composite, porcelain and fireclay. Each material is further available in two different options. These variations are the single and double basin sinks.
How To Clean A Farmhouse Kitchen Sink?
Farmhouse kitchen sinks come in different materials, which makes the cleaning process different. However, keep the following steps in mind when cleaning a farmhouse kitchen sink.
Clean with warm water and a mild cleaner. You can use natural ingredients as well. A simple mild cleanser consists of baking soda mixed with vinegar. Another option is a dish soap along with water.
Wipe the surfaces of the sink with a soft sponge.
Don't let water stand on the surface of the sink. Standing water builds up a mineral deposit. You can clean mineral deposits with a solution of vinegar and water.
For stubborn stains, you can use industrial cleaners as well. Keep in mind though; you need to rinse the sink with water after using such a cleaner and should wipe the sink dry.
Don't use abrasive cleaners as they can scratch the surface of your sink and will dull it.
FAQs
How deep are farmhouse kitchen sinks?
These sinks are 20 to 40 inches when measuring from side to side. The depth of the sinks is around 7 to 10 inches, and they can weigh about 100 to 200 pounds.
What is the most durable material for farmhouse kitchen sinks?
Cast iron is the most common material. It can practically stand up against a pot of any size and weight. It is also resistant to chipping. When going for a cast iron sink, try finding enamel cast iron ones.
Do farmhouse sinks need a special drain?
Farmhouse sinks have a standard drain opening; you will not need to make any extra purchases. However, thicker farmhouse sinks will require an extended flange. This flange is available for purchase separately.
Finally
Farmhouse Sinks are a great option to go for. It is popular among customers due to their variety and space.
I hope this article offers insight on farmhouse kitchen sinks and help you in making a decision.
Good luck!