When setting up a kitchen, you need to look for various elements. You might first look for the door material, color scheme, or layout. But, your kitchen is incomplete without the involvement of the sink. No doubt, a sink is the main working area of the kitchen.
The kitchen sinks are available in many materials and colors. When it comes to the turn of the sink material, most people go for stainless steel. Stainless steel is a good choice, but going for the granite composite kitchen sinks would also be a great decision.
If you are planning to purchase a granite composite sink for your kitchen, then you must be reading this article. On this page, you are going to find every single detail related to granite composite sinks. We will also share the pros and cons of this sink, so making a decision would become easy for you.
Other than reviewing the pros and cons of the granite composite kitchen sink, we have also shared a complete manufacturing process of it. For more details, start exploring this article.
What are granite composite kitchen sinks?
Granite composite sinks were known as quartz composite sinks because they share the same manufacture process. They are generally made of 80% quartz sand and 20% acrylic resins. Sometimes people also called it composite sinks.
If you are interested to know how granite composite sinks are made, then we highly recommend reading this article till the end.
The composite material makes the sinks with a stone-like and sandy look appearance, for this reason you should be giving a try to the granite composite sink.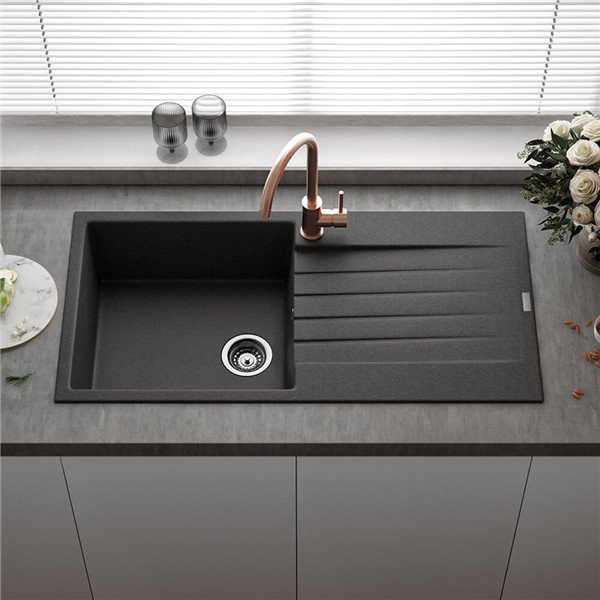 Are granite composite sinks a good choice?
Granite composite sinks are durable and strong. They are not much popular as stainless steel sinks, but they have many advantages. You can found them in various colors and finishes.
The most common question that clicks the mind of every homeowner is whether granite composite sinks are good to choose from? If you also have the same question, you are going to find the answer in this section. Here we will discuss the factors that make the granite built composite sinks the ideal choice for every kitchen.
Read the pros carefully to understand the quality of this sink. Following are some of the main advantages of granite composite kitchen sinks:
Easy to maintain
Granite composite sinks feature a smooth finishing, due to which it becomes really easy to clean them. You don't need to purchase any special chemical for cleaning granite sink unless there are various stains. In case your granite sink has too many stains, you can use vinegar or stone cleaning soap to get rid of stains.
Resistant to scratching, stains, and heat
One of the biggest advantages of granite composite sink is that its color doesn't fade. It always gives the same natural look even after usage for a long period of time. Moreover, this sink is heat resistant. It can withstand temperatures up to 250 Celsius.
Affordable price
If we talk about the price, granite composite sinks are available at a reasonable price. These sinks are affordable because they are a mixture of granite and acrylic resin. The price of this sink depends on size and design.
Durable and long-lasting
As we explained before, granite composite sinks are much strong and durable. The sinks made up of this material can endure scratches, chipping, and high pressure. This strength of granite composite sink makes it durable and long-lasting.
Cons of granite composite sinks
In the last section, we report on the advantages of the granite composite sink. Before making a decision to purchase this sink, you should also check out its cons. Here some of the common disadvantages that you can find in the granite composite kitchen sink:
Heavyweight
Such kitchen sinks are made by using stone material, so they are heavy that makes them difficult to carry. Moreover, granite composite sinks require extra technical services for the installation purpose. The installation cost of this sink is quite more if we compare it with other sinks. Also, you require annual sealing to make it work properly.
Comes in only matte finishes
One of the major cons of the granite composite kitchen sinks is their limitation to manufacturing. The manufacturing process only produces matte finishes. The matte finish also affects the beauty of the whole sink. If you want a sink with a shiny surface and a more attractive look, you should try a stainless steel sink.
High chances of staining with lighter colors
Granite composite sinks are available in many colors, but people with a lack of time should purchase such a dark-colored sink. The light color sinks require more time for the cleaning purpose because it has more chances of staining. Save your time by choosing a sink of a dark color.
What is the construction process of a granite composite sink?
If you are on this page, just know about the manufacturing process of the granite composite sink, so now you are at the right section. Here we will share the complete process of making granite composite sinks. Without wasting a single second, let's start discussing the whole process.
Mixing
In the first step, all ingredients are gathered and mixed together. The ingredients include 80% granite stone dust, and the rest of the 20% ingredients are acrylic resin, pigment, defoaming agent, and a solidifying agent. These ingredients are broken down into tiny pieces to make a better mixture.
Preparing the Mould
Once all ingredients are mixed together, the next step is to prepare a mold. For this purpose, the manufacturers use demolding water so that the mixture doesn't stick on the mold's walls. After preparing the mold, the workers drag the mixture of materials into it.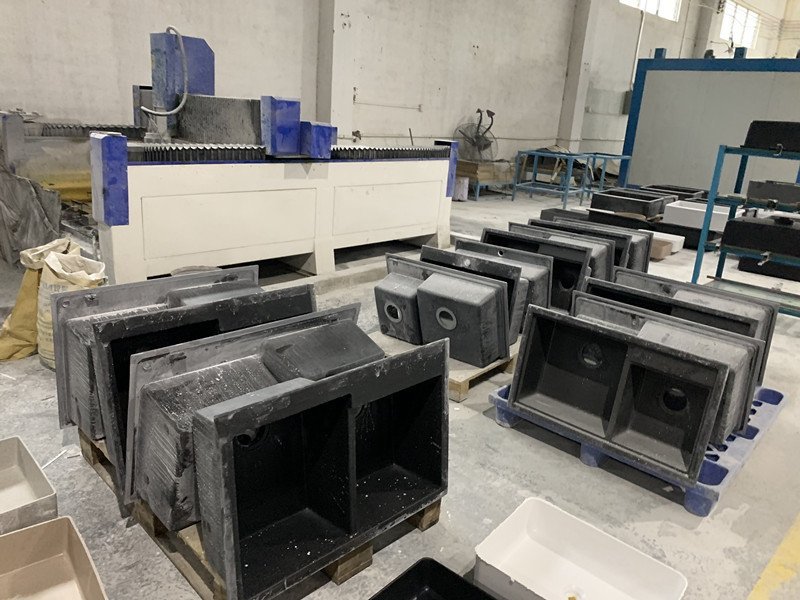 Mold Casting
After some time, The material shapes like a kitchen sink in the mold. After the material gets hard, the post-molding process includes shaping the edges of the sink. At this step, basically, the shape of the sink is targeted. The workers use some special tools to give a top-notch shape to the sink. At the end of this step, the hardened material transforms into a kitchen sink.
Trimming
In the final stage, the experts target the finishing of the sink. For the perfect finishing, the professionals apply roughing, gel coating, and polishing. After this process, the granite composite sink features a matte finishing look. The roughing helps to enhance the shiny aspect of the granite. The gel coating fills the tiny holes on the sink and gives a smooth look to the product.
How to avoid cracking in the granite composite sink?
Granite composite sinks are strong enough, but some factors can make them crack. No doubt, such sinks are heat resistant; it is possible that hot water exposure can make this material crack. Cracks are uncommon in the granite composite sinks. To avoid this hassle, never put a pot of boiling water directly into the sink.
Send Us An Inquiry About Granite Composite Sinks
Conclusion
Granite composite sinks are becoming popular with the passage of time. Such sinks are the best option for every kind of kitchen. They are available in multiple shapes and sizes. On this page, we have discussed the granite composite kitchen sinks in detail. While discussing this item, we have shared its pros and cons.
The experts use a mixture of granite and some other materials to make this sink, so that's why they are very affordable to purchase. The best thing about them is that they are resistant to heat, scratch, and stains. We highly recommend choosing a dark color for this product because there is a high chance of staining in a light color.
On this page, we have also covered up some common questions related to granite composite sinks. Moreover, we have explained the complete manufacturing process of this product. You can take help from our guide if you are researching this product.
The installation process of this sink is pretty time-consuming as well as expensive. If you want to invest in a sink that lasts longs, then going for the granite composite sink would be an ideal option. Keeping in view all factors, we highly recommend choosing this sink.