Probably one of your household's most regularly used amenities, with your shower and bed. However, how much consideration do you place into acquiring your kitchen sink? You would perhaps prioritize selecting a sink that complements the rest of the kitchen. Nevertheless, irrespective of your financial plan, you don't want to have to replace a sink just after a few years. What would be crucial is the sink's capability to endure all of the day-to-day lifestyles that are cast at it while remaining undamaged and simple to maintain. Considering that a good sink ought to last for 10 to 15 years.
We've compared Granite Composite sinks and Ceramic sinks to help you decide which is best for your kitchen sink, considering factors like durability, design, budget, functionality, and fittings.
Granite Composite Sinks
Granite Composite sinks are made up of various long-lasting components, including granite resin, quartz, and heavy plastic dust. Granite Composite sinks comprise 70-80% top-quality granite particles. Granite Sinks are popular because they are ageless and fully capable and add a vibrant aesthetic to your kitchen.
They primarily intend to make the sink as stain-, heat-, persistent, and scratch-resistant as possible. As a result, they are far more long-lasting than stainless steel or ceramic rivals. To function as adhesive to the more composite matter, the fairly small 20% materials are normally made of acrylic.
Advantages of Granite Composite Sinks
Granite Composite sinks are remarkably heat resistant and non-porous due to their content of 80percent hard stone and 20percentage resin.
Unlike a 100percentage stone element, the impervious components of a composite make it resilient to most liquids, with the exception of severe cleaning agents.
Granite Composite sinks are distinctive in that they are typically made of organic substances but are exceptionally color configurable, allowing them to integrate almost every kitchen theme.
The Granite composite sinks' reinforced material properties make their impact and shock-resilient, indicating the sinks' longevity.
Each Granite Composite sink has a perfectly matched tap in design, color, and finish.
Disadvantages of Granite Composite Sinks
Composite sinks are not cheap; an equivalent design in stainless steel can be bought for a lesser amount of money. The composite sink may not be ideal for you if you're working with a limited budget.
Almost every product has a Weak point, and granite composite sinks are no exception. Tough cleaners like bleach and other harmful products are hugely detrimental to the color of a sink.
Ceramic Sinks
Ceramic kitchen sinks come in a variety of designs and sinks. However, they are mostly available in a drop-in aesthetic normally reduced into a curve in the kitchen counter. These sinks enable under-mounting with bolts for a clean, glossy finish. Ceramic sinks also have one or two bowls and enough space to incorporate taps.
Advantages Ceramic Sink
Ceramic sinks have significant advantages, which include the following:
They are highly resilient, particularly when handled appropriately. These sinks will easily last for years.
Furthermore, ceramic sinks, such as the Lesso Ceramic Sink, have an amazing look suitable for most household decorations.
Moreover, these sinks are extremely simple to clean with water and regular laundry detergent. You would not have to purchase specialized household cleaners, saving your finances.
In addition, they are incredibly cheap to fit your spending plan. Simply establish a budget, and you will discover one that meets your requirements.
Ceramic sinks compare beautifully with many granite-themed kitchens. The sleek design isn't only visually attractive but also simple to maintain [a damp towel is normally sufficient to clean with lean and remove any discoloration]
Ceramic sinks' endurance and massive cut-outs make them strong and dependable kitchen place settings. This sink is chip resilient and impervious to several household soaps and detergents due to its heavy-duty coating and faceted clay structure.
Disadvantages of Ceramic Sinks
In contrast to other sink alternatives, Ceramic sinks are predominantly bulkier, which can be challenging to fit and set up. It's always advised to check that your benchtop can hold up the sink or that additional assistance is introduced to support the weight.
On the other hand, a ceramic kitchen sink will require some underneath hold-up to work properly. This is primarily due to their weight. As a result, the sink is generally fixed on a cupboard to provide essential aid and to integrate its semi-sunken location. Ceramic sinks can be slightly broader and subtler than common kitchen sinks, so you may need to modify your kitchen counters for more space.
Whereas ceramic sinks are typically long-lasting, an unexpected effect from a heavy object can cause the sink to chip or break. Although it is less predominant in places like the bathroom or laundry, selecting a ceramic kitchen sink with massive pots and pans can be troublesome. Repairing these chips and cracks can also be time-consuming and expensive.
Ceramic sinks are typically more expensive than alternative materials because of their premium stylistic and favorable qualities. As a result, if you're searching for a more affordable option, a ceramic sink might not be the best choice.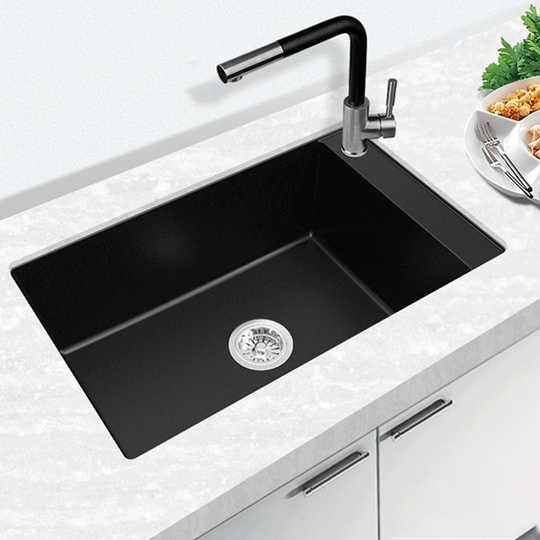 Final Thought
Picking the appropriate sink for your kitchen is determined mainly by your budget and style preferences. To make your decision easier, learn the advantages and disadvantages of each type and select the one that fulfills the majority, if not all, of your requirements.
Therefore, look no further than a Chica granite-made composite sink for resilience and sturdiness mixed with a stylish minimalist look. Its authenticity is evident in its cost and is commonly the costliest substance in kitchen sinks. It is usually 80% granite. Its sleek rock layer renders it virtually impervious to the scuffs and scratches of daily life. A Chica granite composite sink has a conventionally expected lifespan of up to 25 years and is likely to be the sole sink you will ever require to buy for your kitchen.
Chica granite composite sinks are practically chip-resistant and completely heat-resistant. For some, the cost of Chica granite composite sinks is a self-evident drawback. Nevertheless, suppose you are looking for quality, elegance, and longevity all in one sink with a significant chance of never necessitating the replacement of it. In that case, this material is the way to go.