We are always skeptical about things, from telling someone your secret to the sink we use in the kitchen.
The two most sought-after sink materials keep clashing. This presents a choosing battle in the mind of the customers. But, they have differences, ranging from their composition, production process, and features.
Even though you could tell one from the other by looking, there are more variations. They have distinct features,  even down to the feeling you get when touching them.
But what are the other differences between these two primary materials? Granite composite sinks and solid surface sink difference bores down to the composition and base materials.
Here's how to differentiate granite composite sink from solid surface material sink. We'll explain each material in depth before pointing out the variations. Read on.
Difference between Granite Composite Sink and Solid Surface Sink
These two sink materials are famous kitchen wares in the market. Most people opt for both in different quantities. But only a few can differentiate between them. Although you could tell one from the other by a mere look, there are other distinguishing factors.
These features may range from composition, production process to their strengths and weaknesses. But we will look at them one after the other in more detail.
Composition
Solid surface sinks contain over 38% binding resins and about 55% minerals. It is very different from granite composite sinks with about 80% (quartz sand). The varying content of these sink materials affects almost every feature they have.
Most of their advantages and disadvantages are down to what they contain. These materials contribute to the general characteristic of the sink in your kitchen. But how does this affect them? Let's see.
Non-Porosity
From studies and research, granite composite sinks are more porous than solid surface material products. The main cause of this difference is the amount of binding agent contained by the two materials. While the solid surface has about 40% resins, granite composite has only 20% acrylic
These substances help to bind the minerals together and make them one giant molecule. And since one has more, it means that it is better held together than the other one. So, the homogeneity reduces the porosity. Hence, granite composite is less homogenous and more porous.
This also affects their ability to withstand microbial growth. The solid surface is more antimicrobial than granite composite since it has less space.
Heat Resistance
Mineral stones form from a high-temperature impact, so have high heat resistance. This means that a bigger content of natural stone increases the hotness resistance. Granite composite sinks are more resistant to heat than solid surface material sinks.
This is due to the 80% quartz sand content of granite composite compared to solid surface's 40% mineral.
Repairability
The resin content of a sink is what makes it repairable. The acrylic gives it a smooth feel and enhances the shine. Any material with a higher percentage of resins shines better and is more repairable. This fact makes the solid surface more repairable than the granite composite sink.
Scratch and Chip Resistance
Chippings and scratches are hard to appear on natural stone. You can relate by trying to break or scratch a rock. This makes granite composite sinks more chip and scratch-resistant. They have greater mineral content. So, you need not fear when slicing those vegetables. You can't say the same for solid surface material sinks.
Production Process
Granite composite production involves heating and molding of the minerals and resin. It's a straightforward process of production. It requires little finishing efforts since it contains a more natural stone feel.
Both solid surface and Granite composite sinks production process. It involves mixing, molding, trimming, and remolding. More so, the finishing process involves gel coating, roughing, and polishing.
The main difference is the quantity of acrylic contained in the two compounds. While the granite composite has about 20% acrylic, the solid surface sink contains 40%.
What is a Granite Composite Sink?
This one here is a significant upgrade to the natural one. It comprises 80% quartz sand and 20% acrylic. Manufacturers use engineered stone to achieve an even design on the sinks. This element solidifies the blend of heated natural crystals in it. It also makes it harder and more balanced, strength-wise.
It all yields a non-porous sink, which is stain-proof. Granite composite bowls are scratch, chip, and high heat resistant. Also, it is not as expensive as pure granite basins. And according to tests, it doesn't discolor under hot pots of pasta.
How is Granite Composite Sink Made – (Manufacturing Process)
The Granite composite sink has different procedures for production. But they all end up in the same reliable and non-toxic material. The manufacturing process includes:
Mixing
At this initial point, you try to mix all single ingredients. These include 80% quartz sand and 20% acrylic. This could be a natural mineral resin. Some other materials include a solidifying agent, pigment, and a defoaming agent.,
Preparing the Mould
This step is necessary so that the mixture doesn't stick on the walls of the mold. Hence, rub with demolding water for easy release.
Mold Casting
After a thorough mix of the individual materials, the mixture goes into the mold for casting. At this point, it takes the shape of the kitchen sink.
Trimming
The post-molding process involves trimming the edges of the kitchen sink. This helps to ensure it's smooth and flat. This step is vital to give the silky sleek finish it comes with
Demoulding
Take out the finished granite composite sink from the mold for finishing.
Finishing
This process gives it that famous matte black appeal or the glossy finish it appears. At the finish stage, there's the gel coating, roughing, and the polishing stage.
Roughing
This step helps in bringing out the shiny aspect of the granite composite sink.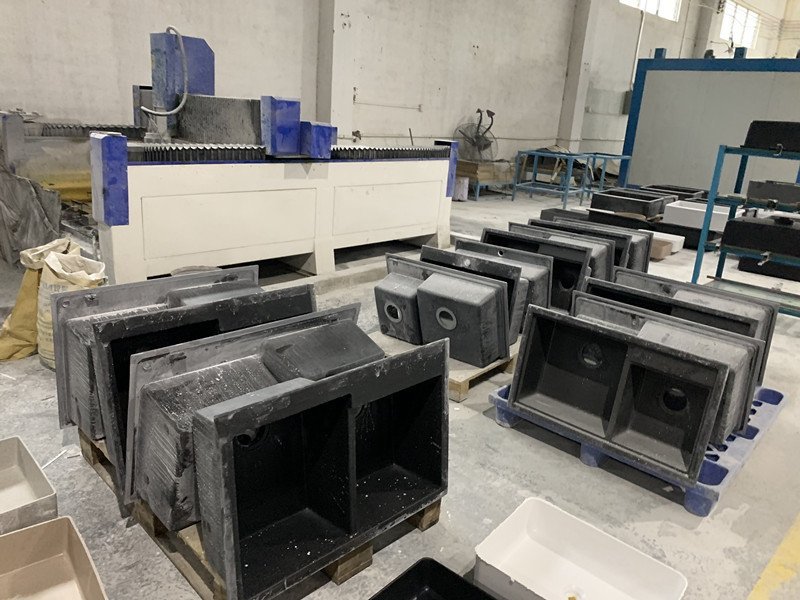 Benefits of Granite Composite Sinks
There are different reasons why people prefer granite composite sinks. Yet, we have summarized them into:
Easy Repair
Granite composite sinks sustain cracks and chips, but you can repair them with ease. All you need is proper sanding, and you'll see them no more. When scorched by a hot pan, you can make it shine again by a straightforward process. It's a DIY process, but you may want to invite an expert for the best results.
Non-porous
It is hard to detect any seam on the curves and edges of solid surface material. This feature doesn't make it look good; it helps with the sink's anti-bacterial aspect. Microbes tend to live in seams, but thanks to the no-seam and non-porous feature, your sink is free.
Also, when you talk about non-porous kitchen sinks, solid surface materials rank high. No sink substance is non-porous to the end. But some like quartz and composite are the tightest.
Microbe-Resistant
Since it is compact and non-porous, microbes like bacteria, mold, and mildew can't grow on it. For this, most establishments like hotels and offices opt for solid surface sinks.
Stain-Proof
For the kitchen, oil and grease stains are common. A surface from which you can wipe stain is invaluable. A solid-surface sink is one you can clean with much ease. This helps it stay free of stains and blights.
Solid Surface Sinks
The surface might look solid, but this sink material is most trendy after Quartz. It is a mid-level component that has found its way into customers' hearts due to its sleek nature. At least, you can give it a new look surface by using only an orbital sander.
Yet, it doesn't have the depth of natural stone but is non-porous and sturdy. The main components of the solid surface material are acrylic and polyester resin. It also has bauxite, epoxy, and marble dust.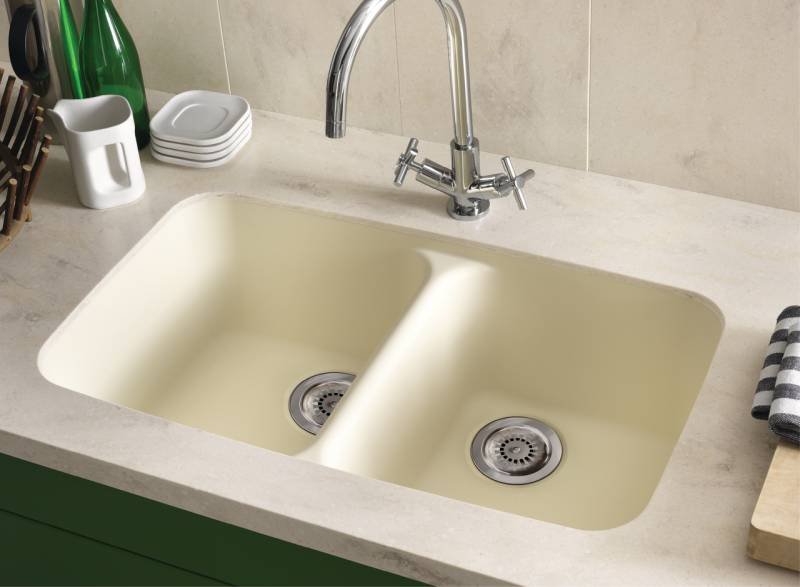 Why People Don't Like It
Solid surface kitchen sinks have some disadvantages, and they are
Not Scratch and Chip Resistant
One problem with solid surface sinks is that they are prone to scratches and chips. More so, a slight impact could cause dents on the sink surface. Hence, you can't slice your veggies on them without a chopping board. It may get scratches from the knife or other tools.
Not Resistant to High Heat
The heat resistance of the solid surface material sink is low. This means that high heat substances or utensils spell big trouble for it. Since it can only hold boiling water for a short while, hot pans with pasta may cause deformation. More so, it may begin to discolor.
Lack of Depth
Solid surface materials lack the strength and resilience of natural stone sinks. This letdown affects the durability of the sink. Hence, it pales when compared to granite composite bowls. But, it remains the same material due to homogeneous mixing.
Summary
Granite composite sinks are among the most bought in the market today. But solid surface sinks offer similar qualities but at a cheaper price. Hence, some homeowners want to find out the difference between these two materials.
We hope this write-up has given you some insight into the comparison. Chica Granite sinks much better than the solid surface counterparts. We expect that you'd make the choice that suits you best.