Undermount sinks are a popular alternative for many people's kitchens, although they have advantages and disadvantages, according to experts. If you are considering import the undermount sinks, we recommend you review this type of sink's main pros and cons.
Advantages of undermount sinks
Maximum use of the worktop surface
One of the main advantages of undermount sinks is that they allow achieving a much more integrated design in all kitchens, being the best option for the most modern kitchens. In this way, undermount sinks are much more functional and perfect for all people who want to design a different and original kitchen with a unique style.
In this way, with an undermount sink, it is possible to make maximum use of the worktop surface. Thanks to undermount sinks, there is no gap between the sink and the worktop, which means that there is much more space available in the kitchen.
More hygienic
On the other hand, undermount sinks are much more hygienic than different types of sinks. These sinks do not have the typical joint that separates the countertop from the sink in built-in models. This is where most of the dirt and debris is deposited and is most difficult to clean. Thus, with undermount sinks, we are spared this problem.
At the same time, with an undermount sink, it is possible to dispose of waste directly into the bowl. As there is no barrier as with other types of sinks, it is possible to dispose of the waste directly in this space. To do this, you simply drag them across the worktop, which makes cleaning the kitchen much easier.
Where to buy the undermount sinks
Suppose you are interested in importing the undermount sinks. In that case, you want to learn more about them or evaluate different alternatives in Chica Dragon. You can find different undermount sinks that will adapt perfectly to all types of kitchens, designs, and countertops of different materials.
Similarly, they should be noted as a type of sinks that work great with resin countertops, with quartz and granite, allowing you to design a modern and resistant to heavy use kitchen.
Therefore, it is a type of sink with very uniform designs that can adapt to all kinds of styles in the kitchen since materials such as quartz or steel combine perfectly with all sorts of styles. They are also particularly hygienic because dirt does not accumulate in the joints, there are no unevennesses that complicate cleaning, and allow you to have much more space for cooking.
Disadvantages of undermount sinks
Undermount sink may not fit every kitchen
However, undermount sinks also have some disadvantages. The first is that these sinks are not suitable for all types of kitchens. For example, combined with wood, they are not a good alternative, especially with chipboard, because the moisture resistance of these materials is not very good. As the edges are exposed to continuous contact with water, they can easily deteriorate.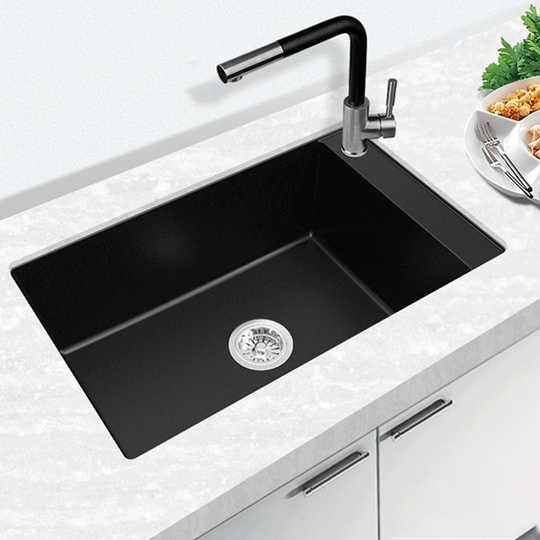 Undermount may be at a high cost
Another major disadvantage of undermount sinks is their cost. There is certainly quite a big variation in the price of a classic sink and an undermount sink. Similarly, this difference will also depend on whether we choose a high-end or a low-end model. The price difference is high with the low ranges, but if we choose a standard sink without being under the counter but high-end, the difference with an under-counter sink of a basic range will not be high. However, if we value both high-end options, the difference will not be so significant, so if we are going to give an intensive use is probably the best kitchen sinks to purchase.
Undermount need a more durable countertop
Another of the negative points of undermount sinks is that if we have any problem, or if something essential breaks in the sink or countertop, we will have to change everything as a whole because it is a single piece. Thus, this would mean a greater expense to put an end to this problem. However, experts point out that the materials used for this type of sink (such as quartz composite or stainless steel) are particularly resistant, so it is difficult for them to break.
Final Word
If you want to find a reliable supplier of undermount kitchen sinks, Chica Dragon is a good choice. They researched the science behind stainless steel sinks and granite composite sinks in great detail. Afterward, they applied this research to make top-quality kitchen sinks.
The quality offered by Chica Dragon is unmatched. They only provide superior quality products. Moreover, they also provide OEM service for those Brand manufacturers from all over the world.
FILL IN THIS FORM TO REQUEST A QUICK QUOTE FROM CHICA DRAGON