Although the sink is generally not the first thing you think of when choosing a new kitchen, it is advisable to give it some attention.
Even more so, if we consider that today's kitchens are places where people live and share much more, whether at the time of cooking, having breakfast, or gathering for a family celebration. And one of the most frequent doubts is which material to choose, stainless steel or some other color? Which is better?
There are numerous sizes, formats, and types of installation. Still, as for materials, in addition to the stainless steel sinks that are the most common, we also find others of different finishes that can give a different look to the kitchen.
It is logical to think that manufacturers are in continuous search of products with better performance and regularly incorporate new models and increasingly functional and attractive designs.
Generally, the prices offer us a clue of the quality that we are going to find. But be careful. Not all sinks are the same even if they look alike, as you can see in the following summary according to the material they are made of:
Stainless steel
Their aesthetics are timeless, and they are manufactured with steel sheets that will not rust, as their name indicates. Stainless steel sinks can withstand heat well, are hygienic, are not altered by cleaning products or foodstuffs, resistant to stains, and common acids are easy to maintain.
After using any sink, it is good to constantly wipe it dry with a soft cloth, preventing stains and limescale deposits.
Quartz Composite
Composed of 80% quartz sand and 20% acrylic resin of high hardness, it is a strong material with easy maintenance, a lovely stone look, scratch-resistant, breakage resistant, heat resistant up to 280-300°C, acid-proof, suitable for all foods and lightfast.
Its surface has a delicate, non-porous texture, guaranteeing high hygiene and a modern and elegant aesthetic.
Synthetic
Made from resins and reinforced with natural mineral fillers such as quartz, silica, and alumina. They are versatile, avant-garde, functional, and adaptable to any taste since they can be manufactured in practically any color you want. It's good resistance to impact and temperatures up to 130ºC.
Combined glass
They retain tempered glass and steel or quartz properties, making them a hygienic, modern and elegant option.
Stainless steel plates with sliding glass covers.
Solid surfaces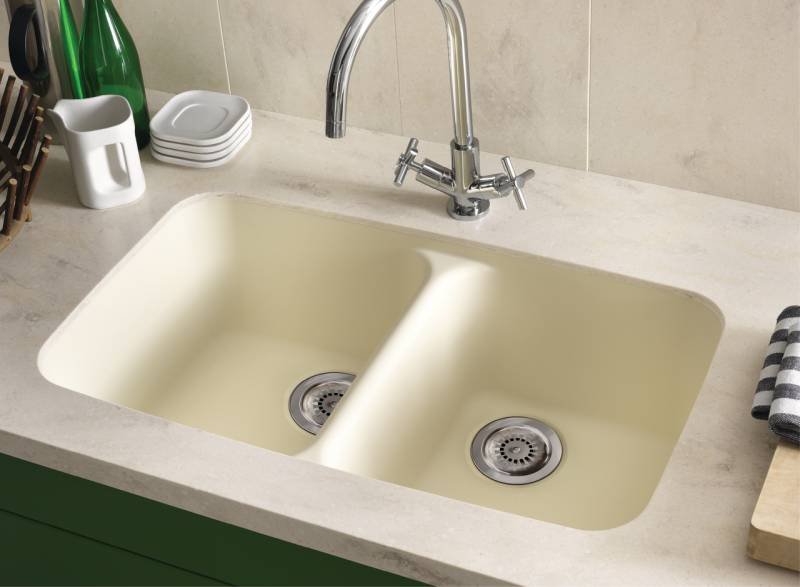 Manufactured from this high quality composite material, their great advantage is the possibility of being seamless, hygienic, durable and non-porous, easy to maintain, and pleasing to the eye.
Porcelain
Composed of quartz, porcelain earth, and kaolin and fired at approximately 1,200°C, the result is a sink that is extremely easy to care for, resistant to domestic shocks and impacts, scratches and stains, heat resistant, acid-proof and lightfast, even to direct sunlight.
Stone
Made with Vicenza stone and authentic travertine, they undergo a solvent treatment process that makes them water and oil-proof.
These sinks are cut from a block of stone with a digitally controlled machine but finished by hand using traditional techniques.
Use a neutral soap and water for cleaning.
Guaranteed and delivered with a certificate of authenticity.
Enameled cast iron
Hardly any other material offers the character and craftsmanship of enameled cast iron. They stand up to any dish, heavy pot or pan treatment, stain-resistant, and easy to clean simply with a sponge and mild soap.
Leather and stainless steel
Leather is a noble material and meets stainless steel to make a unique sink. Flexible and resistant, it is of incomparable quality—French luxury.
Carbon
Carbon fiber reinforced plastic has exceptional properties that make it an essential material for innovation in high-tech industries such as aerospace, shipbuilding, and automobiles.
Schock uses it in high-quality sinks and is available in a matte and glossy finish.