Your sink probably won't become the main center of activity in your kitchen the way your kitchen table, island, or refrigerator will, but it will get a lot of use (more than perhaps anything else in your kitchen). It should be well-designed to withstand that wear and tear while adding a touch of visual flair to the mix.
We've come a long way from plastic or stainless steel kitchen sinks. Today you can choose a beautiful granite composite sink that not only looks amazing but also has the kind of durability. The durability you won't get with most other sink options money can buy today.
Granite composite (as compared to standard granite) offers a host of benefits, including its ability to withstand high and cold temperature changes, its natural resistance to scratching, staining, and chipping. Also, it provides a wide variety of different colors, including matte finishes, which would have been difficult to get out of traditional granite alone.
At the same time, there are some drawbacks to going ahead with granite composite sinks.
We delve a little deeper into the shortcomings of this material below, so you know what you're getting into when you make a move to have one of these beautiful sinks dropped into your kitchen space.
Let's get to it!
Advantages of granite composite sinks
Granite composite sinks have exploded in popularity in recent years, and it's not hard to see why.
Luxurious without the high cost and regular maintenance that traditional granite brings to the table, this material is super strong and durable but not so "hard" that you have to babysit the glasses or dishes you throw in the sink to rinse or clean them.
Lower price than nature granite sinks
People like granite composite sinks because you get 99% of the look of traditional granite without the granite price tag, and that's (usually) reason enough for people to go in this direction.
Traditional granite sinks can cost an arm and a leg, and once you start getting into some of the more "exotic" granite patterns, they can begin to cost even more than that.
No one wants to have to decide between buying a new car and a kitchen sink, and while granite sinks aren't that expensive, it can sometimes seem that way when you take a look at traditional granite price tags.
However, granite composite is always much less expensive than what you would have spent going the traditional route. It is not at all uncommon to find these sinks at prices 25% to 50% lower than what traditional granite would have cost homeowners, making them something you should certainly consider.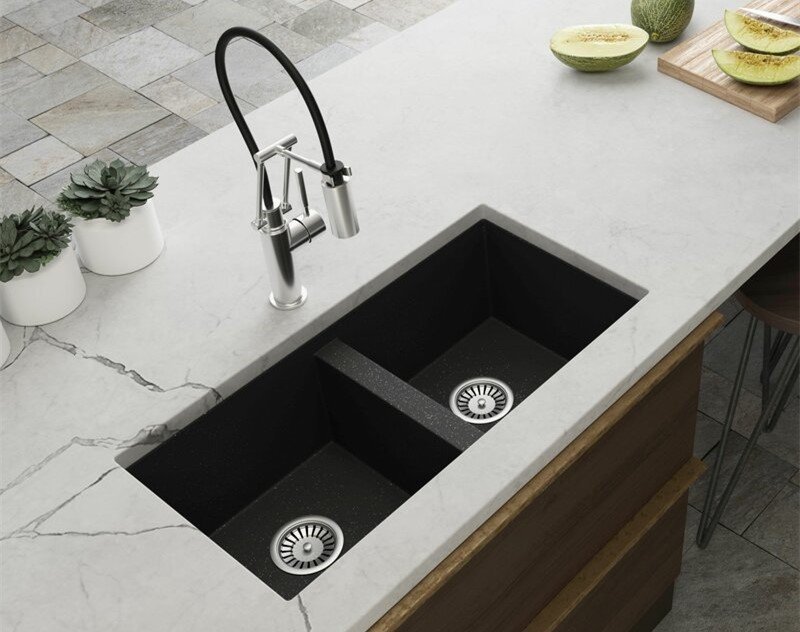 Durable
The durability of the granite composite is outstanding.
You get much of the hardness, strength, and rigidity that a traditional granite sink would have brought to the table, combined with the forgiveness, slight malleability, and "flexibility" of composite materials all at the same time.
This means you'll get a beautiful, rigid sink that will look strong and durable without having to worry about your dishes immediately breaking on contact when you throw them in the sink to rinse or clean them.
Variety of sizes, styles, and shapes
When it comes to natural granite materials, you have to work with whatever Mother Nature decided to do so many years ago, something you are not wholly accountable to when choosing to move forward with granite composite.
There are many more styles, many more patterns, many more shapes, and many more size options available when choosing to go in this direction, thanks to the hybridization of granite and composite materials. You open up a world of creativity in kitchen design when you decide to go in this direction.
Non-porous, hygienic, and heat resistant
Natural granite is quite porous and must be sealed (and then resealed regularly) to function well as a sink, maintenance that most homeowners aren't interested in addressing every six months or even every year.
However, with granite composites, you get a highly non-porous and almost hydrophobic material that sheds water like a duck's back would.
So, you're talking about a sink that is much more hygienic, as there are no nooks and crannies for bacteria to hide inside the way they could have with a granite sink.
Easy cleaning (no chemicals needed)
Keeping your granite composite sink looking as good as new is quite simple and straightforward.
A little regular cleaning from time to time (perhaps every month or so) goes a long way to keeping the finish looking fantastic.
Suppose you're cleaning things that are particularly acidic or have a high potential for staining. In that case, you may want to scrub a little more aggressively if you have a little wine and go down the drain, but other than that, you don't have to care for the granite composite as you do with traditional granite sinks.
Disadvantages of granite composite sinks
While kitchen designers and homeowners worldwide have gravitated toward granite composite sinks in recent years (and for many good reasons, as highlighted above), this is not to suggest that these sinks are without their flaws.
Cheapest sink options available
For starters, even though granite composite options are significantly less expensive than traditional granite options, they are not precisely the "budget option" for today's homeowners.
Stainless steel sinks remain at the absolute bottom of the market price-wise while providing many of the same benefits (maybe a couple of extras) that granite and granite composite sinks cannot yet offer.
If you're making your new sink decision based on price alone, you'll want to look elsewhere than granite composite.
Decent risk of chipping and cracking
While the risk of chipping and cracking decreases significantly when combining granite with composite materials, it does not mean that the risk is completely eliminated.
You are still dealing with 80% natural granite materials that have the potential to be compromised, even if that material is protected with 20% resin or some other compound that holds it all together.
You can beat up a granite composite sink a little more than traditional granite, thanks to the impregnation of that resin material. Still, you can't necessarily drop heavy pots and pans into the sink without expecting something terrible to happen anyway.
Quite large, bulky, and heavy
Stainless steel sinks are prized for their ease of installation, mainly because they are light enough to handle comfortably with one hand.
That's not going to happen with granite composite.
This stuff is still pretty big, pretty bulky, and definitely on the heavier side of things. You'll want a little help installing this new sink in your kitchen, but you'll also want to consider reinforcing the area around your sink (and maybe even under your sink) to make sure your choice of granite composite isn't. Don't stress your countertops or cabinets.
Requires special maintenance
Special maintenance will be required every year or so (or if something particularly acidic or with a high likelihood of staining gets into your sink, as we highlighted above), even if it is less special maintenance than traditional granite would require.
A couple of companies have prepared special non-chemical cleaning agents to help you make quick work of your granite composite. That's a great way to go if you're looking to keep everything nice and clean (and hygienic) without destroying the finish or potentially compromising the resin in your sin.
However, you won't have to go through the resealing process. You might have had to go through with traditional granite options.
That's a big plus, even if a little special maintenance is necessary, as not too many people get excited about having to reseal their granite sink every 12 months to keep it looking good.
Increased staining potential with lighter colors
Lighter colors in the world of granite composites are much more likely to stain than darker colors for apparent reasons.
However, what might interest you even more, is that lighter-colored granite composites cause havoc and an even greater likelihood of staining than traditional lighter-colored granite sinks.
A lot of this has to do with the type of resin used in light-colored composite sinks. This resin can absorb a lot of the acidic or staining material into itself and then "hold" it almost permanently. The only way to get rid of it is to destroy that bit of resin and then refinish the entire sink (or replace the whole sink).
If you're a household that has a lot of frequent pasta nights or a family that drinks a lot of wine (some of which end up in the sink), you'll want to make sure you're on top of cleaning things quickly. And efficiently, or you risk staining your lighter granite compounds.
Much of this can be avoided by opting for a darker color. But if you want that bright white or another lighter shade because of the visual impact, it can have on your kitchen, and more cleaning will be necessary as compensation.
Popular brands of granite composite sinks
Many great companies are doing fantastic work in the world of granite composite sinks these days, but three options stand out above the rest of the pack.
If you're going to spend your money on granite composite sinks, you want to be sure that money is well spent, and you really can't go wrong with any of the options available from the three companies we highlight here.
Blanco
The folks at Blanco have created their own patented granite composite material they call Silgranit, a granite composite composed of 80% granite powder and 20% resin and composite materials.
With a wide variety of styles and colors (as well as shapes and sizes), you'll find these granite sinks to be durable, easier to maintain, and excellent, worthy additions to any new kitchen design.
Granitek
Based in Italy, this company was founded in 1997 and is a true pioneer in the world of granite composites.
Combining natural stone with acrylic resin to produce a hybrid material that is beautiful to look at and very durable, these granite sinks offer the best of all worlds when it comes to granite and composites.
Kraus
Known around the world for the high-end kitchen sink products it has produced for decades, Kraus has a reputation for bringing some of the most impressive designs and engineering to the world of kitchen sink products. That extends to its granite composite sink options as well.
The designs Kraus presents are very minimalist, very modern and sleek, and similar to what you might have expected the folks at Apple (or another high-tech company) to design if they were to enter the world of the kitchen sink.
Durable, solid, and well-made in all areas, these are top-notch composite sinks to consider for sure.
Final Word
If you want to find a reliable supplier of granite composite sinks, Chica Dragon is a good choice. They researched the science behind granite composite sinks in great detail. Afterward, they applied this research to make top-quality kitchen sinks.
FILL IN THIS FORM TO REQUEST A QUICK QUOTE FROM CHICA DRAGON
The quality offered by Chica Dragon is unmatched. They only provide superior quality products. Moreover, they also provide OEM service for those Brand manufacturers from all over the world.