If we talk about sinks, the universe of existing options is vast, currently manufactured in different sizes and designs with all kinds of kitchens and styles. Kitchen sinks are a fundamental piece of any home, so choosing a suitable model functional to our needs is essential. Therefore, we prepared this guide to help you make a good decision, and you can choose the kitchen sink that best suits you.
Best brands of kitchen sinks
Choosing a good brand for your sink is essential since the durability of your sink and the fact that it will look as good as new for a more extended period will depend on it. The materials also influence, as we can imagine, but the choice of a good manufacturer will determine the quality of the materials in which our sink will come.
1- Franke
2- Blanco
3- Kraus
4- Ruvati
Other brands
these brands may not be as popular as the others listed above. However, they also have good ratings and reviews from both users who have used their products and critics.
Teak
Mizzo
Rock
Types of kitchen sinks
They can come in models of two sinks, three, or only one. Different features can help you find the best for your kitchen, but you first have to know the options available. That's why here we show you the different types of kitchen sinks that exist.
There are many ways to classify them, but one we have chosen that varies the most according to the kitchen style is the shape. So we bring you here the kitchen sinks according to a different shape.
1. Single bowl
This sink model is usually the most common. It is a single bowl that can be installed above or under the countertop. They can have a drainer on the side. Click on this link to check their models.
Advantages
They are more economical than the double bowl ones.
Disadvantages
Its size can sometimes be insufficient to organize the dishes to be washed.
2. Double bowl
This type of sink is ideal for larger kitchens. It is a double sink with which you will have much more space when cleaning the dishes and perform different kitchen tasks, which are the preferred models for being much more comfortable. You can look at the catalog here.
Advantages
They are more spacious and allow you to do more things in the kitchen.
Disadvantages
They are more expensive because of their large size.
3. Corner sink
This sink model is usually more common in small kitchens, where it is necessary to make the most of all the spaces, and in this case, as its name suggests, these sinks are installed in corners.
Advantages
They are ideal for small spaces.
Disadvantages
You can't accumulate anything in the kitchen because they don't have much space.
The different shapes of sinks
One of the features that we first notice about a sink is its shape, although it is clear that the choice of one will depend entirely on the user's needs. We know that it is not the same to have ample space as with a smaller one. The countertops usually have different shapes, and not all models are valid, so you must review this element before making your decision.
1. Square sinks
They are the most common, come in different materials, and can be both one or two buckets. Their great advantage is that they adapt to the smallest spaces. On the negative side, they are not adaptable to large rooms because they tend to come in more standard sizes.
2. Rectangular sinks
These models are among the most spacious available. They are also quite recognizable in many kitchens. Their great advantage is their capacity to store and place things. At the same time, their main disadvantage is the need for a large kitchen to install them.
3. Round sinks
The most significant advantage of this type of sink is that cleaning and maintenance are made effortless thanks to its shape. Now, on the not-so-positive side, we can say that its dimensions are usually limited, so it is not ideal for all types of kitchens.
4. Corner sinks
These models are specially designed for compact spaces, so they help you use all your space more optimally. The significant disadvantage is that they are not always comfortable to use.
5. Sinks with drainer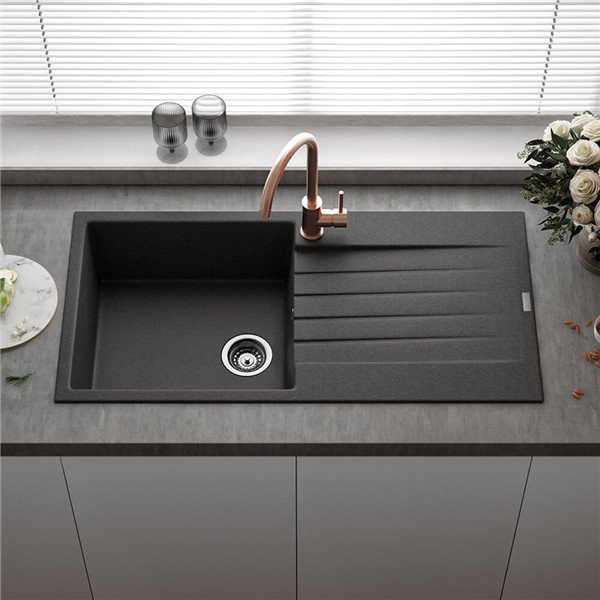 This model is efficient as it allows you to drain your food and utensils while you continue washing the rest. In this case, the disadvantage is that these models are not compatible with small kitchens.
Things to Consider Before Buying a Kitchen Sink
Before making the final decision in choosing your sink, it is convenient to look at some of its most outstanding qualities and features, so you can be more precise about which sink will best suit your needs. Reviewing dimensions, sizes, materials, and installation mode are ideal for making a conscious decision in your purchase.
Size
The first thing to be clear about is that kitchen sinks come in several different sizes, which means that they can adapt to all types of kitchens, even those with tiny spaces.
Now, the decision will depend primarily on whether you are looking for a new sink or if you want to change the one you already had. If the latter is your case, then you already have the measure established. If not, then yes, you will have to be very careful with the measurements before proceeding with the acquisition of your sink.
Having clarified this point, then we can move on to the description of kitchen sinks according to the main dimensions.
Overall Sizes (from front to back)
These are usually measured by inches, ranging from 11 to 24 inches, and are available in 26, 29, and 32-inch sizes.
Width
This is another vital element. The width of the sinks is measured from side to side. You can find sinks from 11 to 45 inches in terms of width, a dimension that can be increased by one inch at a time.
Depth
Another fundamental element is the depth, especially if you need a sink with a large capacity. In this case, the ideal for you will be to choose a sink with sufficient depth. The measures, in this case, are not standard, as they tend to vary depending on the brand, and it is different depending on the design that each manufacturer house.
Sinkholes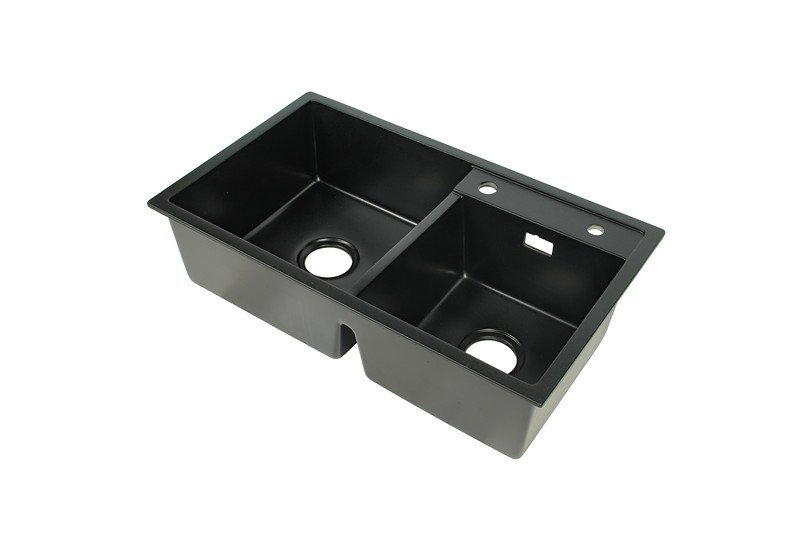 The number of holes that our sink has will define the accessories that you can use in it. In general, these pieces for the kitchen usually come with four holes that serve to mount the main faucet, plus additional ones, such as a hot water dispenser, a soap dispenser, a sprayer, and even a particular hole for a water filter.
In this case, it is best to choose a sink that has the number of holes you require for your kitchen. Still, there is also the option to drill the pieces already made of steel with a particular saw, and so you can add the number of accessories and elements to make work more comfortable in your sink.
However, if you buy a sink that comes with extra holes, don't worry. There are special plugs that can be used to cover the unused holes in your sink.
Materials
Apart from the design and type of installation, sinks can be classified according to the materials. Each one has a series of advantages and disadvantages that can determine which one suits you best and adapts to your needs.
1. Stainless steel
It may be the most used material in the manufacture of sinks for the kitchen, as it is a resistant metal, able to withstand corrosion even with frequent contact with water. Another advantage of these sinks is their price. However, you must consider different qualities in terms of steel; making a model made of this material can be more expensive when its manufacturing process has been more extensive or has some improvement.
This material is characterized mainly by offering excellent resistance to shocks and high temperatures, being also the most versatile in terms of design and shapes that can be adaptable to even the most demanding tastes.
As for the disadvantages, we could only say that steel is a material that scratches more quickly. If you live in a place with water with many minerals, the residues can make the sink lose shine with constant use, so it is necessary to keep them clean and shiny.
2. Cast iron
It is also possible to find sinks made of enameled cast iron, which are usually characterized by a smooth and more elegant finish, as well as a wide range of colors to choose from.
Among the universe of options available, this may be the most accessible type of sink to clean, and it is almost impossible for them to lose their original shine. Although it has to be said, this material can be a little heavy, so it is essential to make sure that your countertop is strong enough to withstand the weight when you go to buy it.
3. Quartz sinks
This type of sink is usually made of a combination of fiberglass and acrylic compounds and high quartz content. They differ from other models because they are remarkably durable and available in a variety of colors and styles.
Among its great qualities is its outstanding resistance to shocks, scratches, and heat, being a great alternative if you are looking for an attractive and elegant sink.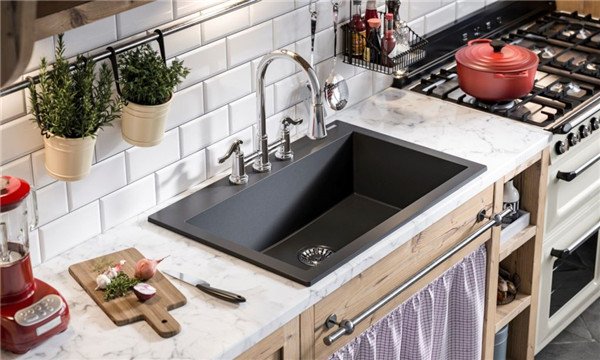 4. Ceramics and solid materials
If you like the vintage or rustic style, sinks made of solid materials such as stone or ceramic are perfect for installing in your kitchen, as they are very resistant to bumps and scratches, plus they look great in kitchens.
The only disadvantage of these models lies in their price, which is usually higher than other models due to their manufacturing materials.
5. Crystal or china glass
This material has the great advantage that it is effortless to clean and is characterized because it is almost impossible to scratch or stain. It also highlights its ornamental designs and unusual shapes that often have, so they are ideal for the most exotic kitchens.
6. Copper or brass
This sink material is more commonly found in the bathroom but can be just as suitable for the kitchen. It is advisable to dry those sinks after use to prevent them from losing their shine.
Installation method
Suppose you are about to remodel your kitchen or you want to do it from scratch because you have just moved to your new home. It can be inspiring and disturbing to be aware of all the details, one of those being the installation of the sink, so, to give you a clear idea of what types exist and which ones you can choose according to your needs, we show you the different types of sinks.
1. Top mount
This type of sink is one of the most common, so there is a good chance that you have seen this model many times before. It is the most classic and traditional model of all. It is a sink that has its edge on the kitchen countertop, hence its name.
These sinks can be found in different styles, depending on whether it is a model with one or two basins if it has a drainer, as well as other installation options, for example, instead of being located in the middle of the worktop, it is in the corner of it.
2. Undermount
In this model, things are different, as the installation of this type of sink is one level below the worktop. An undermount sink has a more modern and contemporary design and style, where there are a variety of shapes, such as rounded corners, completely straight, single, or double bowl, depending on what you need.
3. Flush mount
This type of sink is one of those with a rim that is precisely at the same level as the worktop, i.e., a completely flush installation. Of all the types of sinks, these have the most modern design, with fabrications in which materials such as steel and black glass can be combined.
Practical accessories for your sink
Once you have chosen the best sink according to your needs, it is time to think about some accessories that can make this essential piece much more helpful, so if you can choose some extra accessories, we recommend the following.
Drainer basket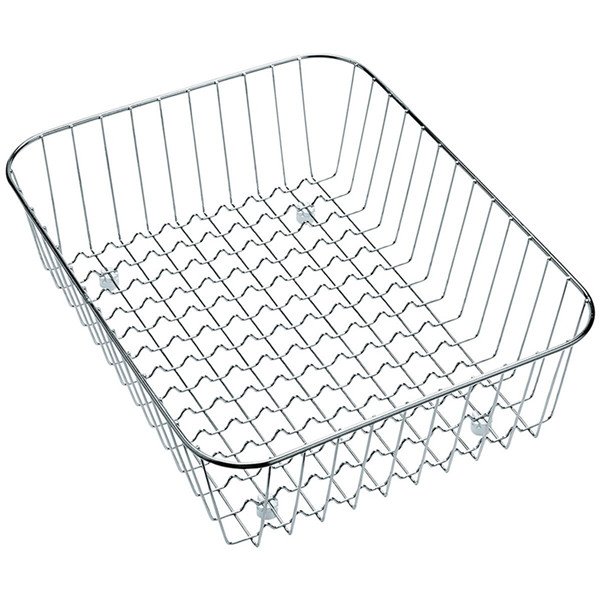 It is an ideal accessory to leave drying food or dishes while you finish cleaning the dishes. They are also quite helpful in washing fruits and vegetables to place them on top to drain appropriately.
Anti-slip
If you're worried about breaking a plate or glass when your dishes are being washed, it's a good idea for your sink to have a non-slip surface which, as well as giving an excellent decorative touch, will prevent things you've washed from slipping when they're wet.
Sponge bucket
This accessory is handy because you can have all your scrubbing sponges always at hand with it. Just make sure that it is a piece of stainless steel or plastic. This way, you will avoid corrosion by frequent contact with water.
How to clean your sink?
The first thing we must be clear about is that cleaning the sink every day could do more harm than good, as in the long run, it could cause the material to lose its shine. The best thing to do is to use suitable products for the material it is made of. Never use aggressive cleaners or scouring pads that could scratch the surface.
The best suggestion we can give you is to use neutral soap and a soft cloth as much as possible. If you then dry it well, the sink will be perfect and will look like new for much longer.
Best kitchen sinks manufacturer in China
We have almost reached the end of our journey. Now you can safely say that you know a lot about kitchen sinks and everything related to them. Now we have to leave you this link to find all the models described above and more, different offers, types.
For more information on wholesale sink prices, email at artemis@chicadragon.com or Luis@chicadragon.com