Corian Sink is well known to the kitchen and bath industry for DuPont's Corian is the first company to invent the solid surface material in the world. Their solid surface material is widely used in the kitchen and construction.
Solid-surface material and granite are premium kitchen sink materials that will return excellent value to the homeowners for years, plus each has good resale value. Beyond that, you will find that the two materials vary greatly. On the other hand, the only attribute that both solid-surface material and granite share is that they look somewhat alike—at least from a distance.
In this article, we will discuss the difference between these two materials: Corian(solid surface) and granite composite.
Solid-Surface Material vs. Granite Composite
Solid-Surface Material
The name Corian is the Dupont Corporation's brand name for its flagship solid surface material. Because Corian was the first of the solid-surface materials marketed for use as a kitchen sink or countertop, the name often is used to refer to all solid surface materials, including brands made by other companies. Swanstone, Formica, Wilsonart, and several other companies all make their forms of solid-surface material, and virtually all of the virtues and drawbacks of Corian also apply to those other brands.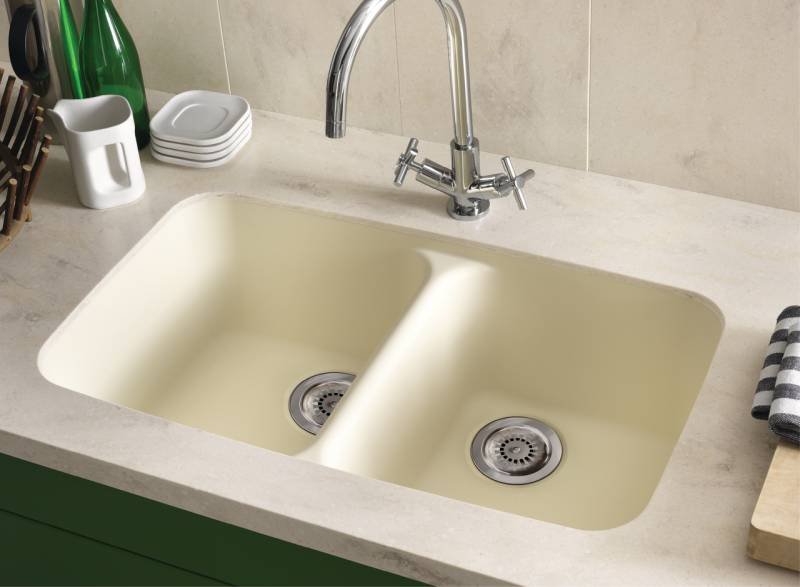 Corian and other solid surface materials are wholly artificial products manufactured by mixing acrylic, epoxide, and polyester resins with various pigments and a filler material derived from natural bauxite, a sedimentary stone. The difference between multiple brands lies in the specific blends of resins and the pigments used. Solid surface materials heavier in acrylic resins are usually considered superior products to predominantly polyester resins.
Corian and other solid-surface materials can be molded into a variety of shapes. Many, but not all, Corian styles have a speckled appearance similar to some forms of natural granite.
One advantage to Corian and other solid-surface materials is that pieces can be glued together with a solvent so that the seams are entirely invisible. This gives the appearance of a smooth and non-porous.
Granite Composite
Granite composite is an engineered stone manufactured with 80% quartz sand(or granite particles) and 20% resin. The proportion of quartz content varies from manufacturer to manufacturer, but generally speaking, the content is at least 70%.
Granite composite sinks come in many different colors and styles, depending on the customer's need. Colors can range from nearly completely black to almost pure white, with pinks, greens, yellows, browns, and even blue tones. Many types of granite are blends of different colors. Granite composite sinks are noted for having random graining patterns that make the sink match different countertop styles.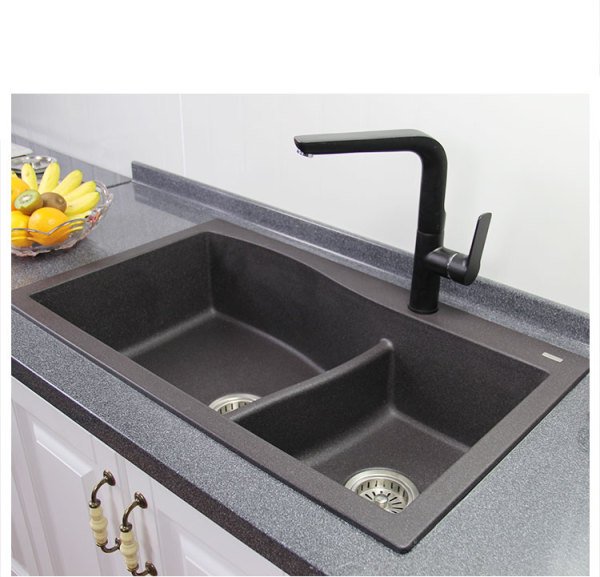 Appearance
Solid-Surface Material
Corian and other brands of solid-surface material are typically formulated. Hence, they have a speckling that is similar to some forms of natural stone. Still, most styles are considerably more subtle than the dramatic veining and color variations typically found in natural granite. This smoother, more homogenous appearance can be an advantage where you don't want the countertops to be a primary design feature—such as when you want gorgeous cabinetry to be the main feature of a kitchen.
Solid-surface materials come in many different tones. Corian, for example, is available in more than 40 different styles, ranging from pale white to deep black, with yellow, brown, reddish, pink, and green tones. Many types are fairly solid colors, but newer offerings include some dramatic granite- and marble-look patterns.
For some consumers, the uniformity of pattern and color in solid surface countertops is an advantage. In contrast, for others, solid-surface materials have a plastic look that is boring and artificial.
Granite Composite
Granite composite sinks have a stone-like look, with color and pattern blends unique to each countertop. Unlike a solid surface material, the high content of resin makes it have a plastic look. These granite sinks shine as designed elements, drawing attention to themselves. Colors can range from palest white to darkest black, with a fantastic diversity of colors in between. Bright blue, yellow, and red granites are available if you are willing to pay a premium price to have a custom design.
Some homeowners prefer the look of natural granite as being decidedly better than solid-surface material—at least when the materials are viewed on their own. These people love the look of natural stone, with its color variation and deep luster. But the stone look of a granite sink is not for everyone. Some people claimed that it's easier to fragile the dishes for the extreme hardness of a granite sink.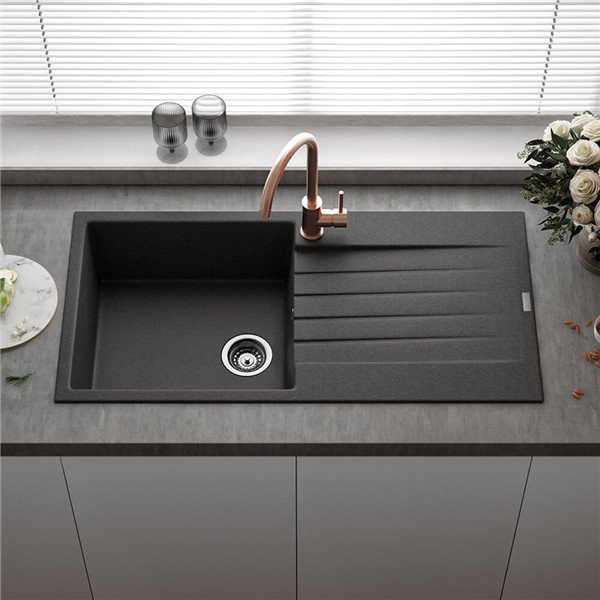 Water and Heat Resistance
Solid-Surface Material
Corian and other solid-surface materials have excellent moisture resistance. Hot pans can scorch Corian, usually requiring hot pads, trivets, or cutting boards to protect it from extreme heat.
Granite Composite
Granite composite is well known for its hardness. It's 3 times hardness than the natural stone. As for heat resistance, granite sink tends to do much better than solid surface material. You can set a hot pan on it without worry. In most cases, even red-hot skillets can be directly put into a granite sink.
Solid-surface material wins as the most water-resistance countertop material, but granite takes the top position for heat tolerance.
Care and Cleaning
Both materials are essentially non-porous and are considered hygienic surfaces, and easy to keep clean, but there is still the difference between the two.
Solid-Surface Material
Corian and other solid-surface materials are pretty easy to clean with soapy water or an ammonia-based detergent solution. You should not use glass cleaners, which can leave a waxy residue. To avoid water spots, dry the countertop thoroughly. No sealers are ever needed on a kitchen sink made from solid-surface material. Do not place hot pans directly into a solid-surface sink. Staining agents should be wiped up immediately.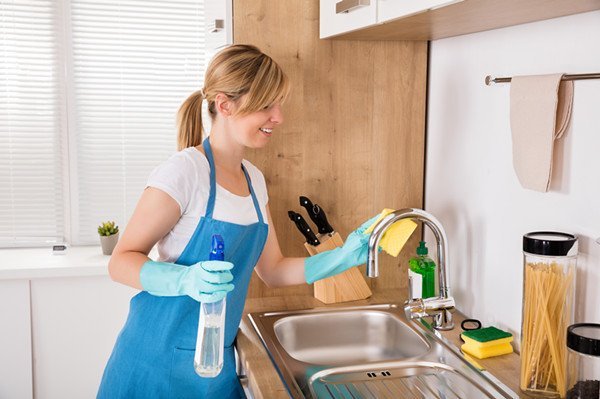 Granite Composite
Mild dish soap and warm water are best for cleaning a granite composite sink. For tougher stains, sprinkle baking soda into the sink, add vinegar, and gently scrub with a non-abrasive sponge.
Durability and Maintenance
Solid-Surface Material
Solid-surface materials such as Corian are relatively easily scratched, but minor scratches and blemishes can be easily buffed out with an abrasive pad. Solid-surface materials are softer than granite and thus more challenging to crack, and the material has no vulnerability to etching from acidic materials. It can be stained, but discolorations are usually relatively easy to scrub out.
Granite Composite
Granite composite is difficult to scratch or damage with knife blades. It's more durable and scratch-resistant, and it can withstand acid and Alkali. The most significant advantage is the high-temperature resistance. It can stand with the high temperature to 260℃.
Lifespan
Solid-Surface Materials
Corian and other solid-surface materials are generally warranted for 10 years, but they can easily last 30 years or more in practice. Scratches and burns—or simply the need to change styles—may eventually make you want to replace these kitchen sinks.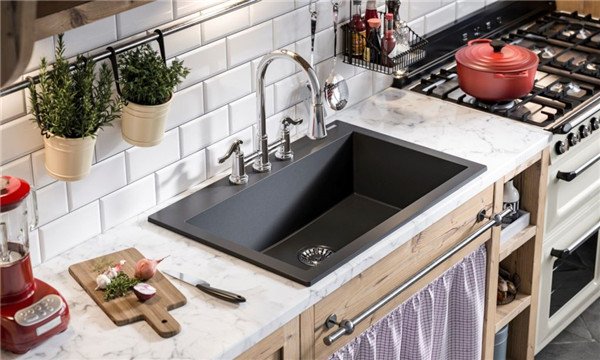 Granite Composite
Granite composite is one of the most durable of all materials, and lifespans of 50 years are not uncommon.
Granite composite has an even longer lifespan than solid-surface materials, which are also quite durable.
Resale Value
Solid-Surface Materials
Once regarded as a high-end, premium countertop, solid-surface material has seen its reputation slip somewhat as engineered stone (quartz) kitchen sinks have emerged as one of the favorite kitchen sink materials after stainless steel.
Granite Composite
Granite composite sinks are almost always viewed as a good investment when increasing the sale value of the kitchen. Granite composite sinks are considered superior to the other two most popular kitchen sink materials—porcelain and fireclay.
The Verdict
Solid-surface material such as Corian makes an extremely practical and attractive kitchen sink that has now become more popular, but slightly below granite composite sink in durable and heat-resistant. Granite composite still holds the premium kitchen sink in terms of the most desirable sink material. Still, the lower cost and great performance of solid-surface material make it worth a careful look.
If you want to find a reliable supplier of granite composite sinks, Chica Dragon is a good choice. They researched the science behind granite composite sinks in great detail. Afterward, they applied this research to make top-quality kitchen sinks.
FILL IN THIS FORM TO REQUEST A QUICK QUOTE FROM CHICA DRAGON