In a world where luxury is paramount and you have to remodel your kitchen severally, you may get confused on which item to choose. During the selection of sinks for a new or renovated kitchen, you don't just consider the price and aesthetics, configuration matters too.
Besides, there are numerous sink configuration in the market but two of the most common are the single and double bowl sinks. These bowls have their pros and cons but they remain some of the best sinks that money can buy both in functionality and beauty.
Despite their popularity, a good debate on the sink market scene is Single Sink Vs Double Sink: Which one is better. We'll let you be the judge of that as we outline the differences in configuration as well as their pros and cons.
Single Kitchen Sink
Single basin sinks are types that have a big bowl for its functions and does not have a partition that divides it. They are the perfect kitchen ware for smaller cooking spaces as they need no much room for installation. The sinks come in various sizes and shapes but mainly within the 14-inch range although there can be larger ones.
Pros of Single Bowl Sink
There's no rush with the dirty dishes as you have enough space to stack them up until you're ready to wash them
It is faster, cheaper, and easier to install than double bowl sinks
Single bowls help to conserve space for other counter installations
There is no divider so there is a large space for washing big pots or heavy items
You can get them in large sizes or medium to smaller ones
During purchase, you get the single bowls at a cheaper rate
Cons of Single Bowl Sink
it has one compartment so you can't separate dirty and clean dishes
unless it comes with a small drying rack you have to dry plates on a counter which consumes space
you have to combine huge pots with fragile and breakable plates
Double Kitchen Sink
Double basin sinks have a divider that separates them into different compartments. It may come with equal size bowl though it comes with one bigger and smaller bowl most times. To enjoy a double bowl sink you should have a large kitchen space.
More so, it comes with various designs depending on desired layout or function. Some come with half dividers giving you the ample usage of the both bowls as you can wash bigger pots and dry plates.
Pros of Double Bowl Sink
Versatility at its peak, you may soak plates in the first and wash in the second bowl
With a drying rack in one sink you can dry your plates on that bowl giving you better counter space
You don't need to mix raw meat with other contaminating food items during items
It gives you the space to separately wash breakable glassware and metal utensils
Cons of Double Bowl Sink
It's a bit shallow and so cannot conceal dirty plates
Doesn't fit in a small spaced kitchen as it needs large installation space
Drainage is complicated and can lead to frequent blockades and clogging
Which is Better?
We'll be considering some factors from whence we'll be making our verdict and they include –
Use/Purpose
The sink is among the most used kitchen item and as such we should consider what would allow easy usage.
Thus, the shape and size of a bowl comes into consideration when choosing either a single or double bowl. If you intend to cook and wash frequently, then a double bowl sink will come in handy. However, a single bowl sink is suitable in a small-spaced kitchen.
The single bowl as the name goes, has only one drain and sink while double bowl comes with dual drains. Thus, one bowl may be used for a different purpose in a double drain sink while the other serves another cause.
This is one advantage it has over single bowls. Hence, a kitchen with a single bowl installation may nit have the luxury of moving heavier items into a second bowl while the other one is for edible items. More so, fragile items may drop from a single bowl due to inadequate space but that's not obtainable in dual bowl sinks.
Moreover, considering the size of double bowls, one may be 21" and the second 15," it can only fit into a larger space. But single bowls are almost of the same size in inches with the double bowl sinks only that they take up lesser room. Double bowls take up more room but can serve dual purpose.
Therefore, you should be considering single bowls for corner sinks or little cooking spaces. Bowls like the famous D-shape sink would fit in snugly into any given space and kitchen layout. Depending on the design of the kitchen space, there are many styles which can fit in.
For instance, for a small sink cabinet base, the single bowl gives more options since the double bowl would take up much space. For a new kitchen with no cabinetry installed, you can have any kind of sink installation. However, you will have limited choices if it's a replacement.
Finally, you have more usage options in a double bowl than a single sink. Although, there are special cases where a single bowl would come in handy like washing babies or big pots. You also wash large pans with relative ease.
These cannot be enjoyed in double bowl sinks because of the dividing bar. But you can be doing different things at the same time on either side of the double sink. Thus, it gives more versatility in usage than the single bowl.
Counter Space Management
Double bowl sinks would be the obvious choice if you intend to utilize every part of the counter space in the kitchen. They come in handy for storage, beauty and meal preparation. Besides, you may decide to turn the second bowl to a storage spot by placing a drying rack over it.
Hence, it becomes an extension of the counter so that you can place the plates on the rack to dry after washing on the other bowl.
While you may see such versatility in single bowls, it tends to reduce the washing space and size of drain area. Once the sink base cabinet is little, it determines the size of the bowl you can install. For a smaller counter space, consider putting a single bowl to free up more room for other cabinet installations.
Installation Methods
The installation of a single and double bowl sink is almost the same. However, there are little differences depending on the style of installation you want. For a general method during installation, you hold both sinks with sink clips and epoxy 2.
More so, you may install a large C-clamp to fasten the sink bowl to the counter during the drying of Epoxy 2. Yet, the difference comes in the connection of the pipes to the sink bowls. This is because while a single bowl has only one drain and so uses one pipe, double sinks have two drains.
Hence, the installation a single bowl should be cheaper and faster. Also, it only needs one faucet which is easier to mount. However, in double bowls you need to connect the drains to a single outlet. Both drain pipes run into a single one before hitting the waste trap.
Thus, it may be more difficult if one sink has a garbage disposal and the other does not have. And, it will require mounting two faucets if both sinks will be used for washing purposes.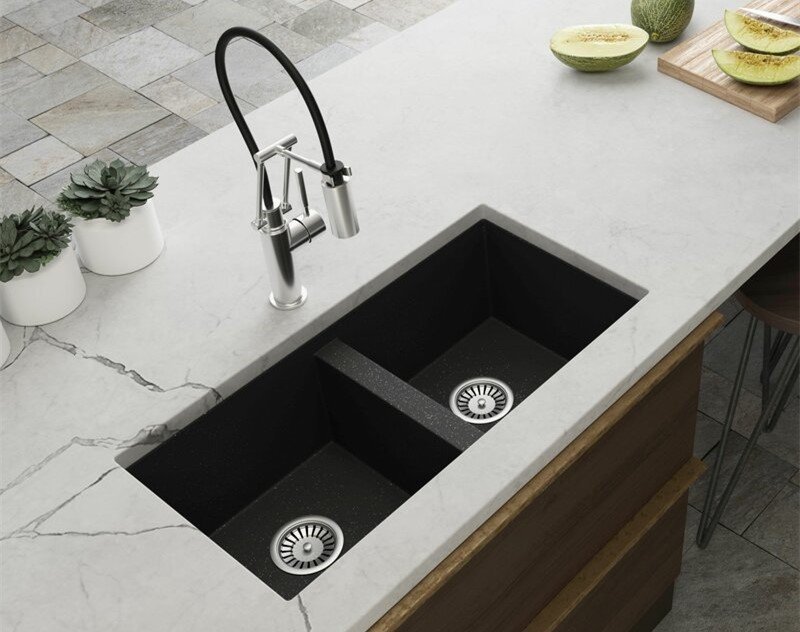 Costs
The main factors that influence price in sinks are size and type of material. Yet, double sinks would be more expensive even if they were the similar company, size, and material with a single bowl.
Even though prices may vary depending on the firm that runs the installation, it follows the same pattern of pricing. A double bowl will ever be costlier than a single bowl unless the latter comes with an additional hardware.
Dishwasher Combo
If the design of the kitchen requires a dishwasher installation, you have to look out for the sink configuration. Even though both sinks can fit in with a dishwasher you may want to go with a single bowl.
This is because the dishwasher does the dishes so it won't be a problem for the sink. Hence, the sink is now for washing food items and large utensils.
Use of Water
We earlier mentioned that a single bowl may be the same size with a double bowl sink only that the latter has a partition. This layout may also affect the quantity of water used on both sinks because you only use a half of the double bowl.
So, since the single bowl is almost the same size, you tend to use a bigger quantity of water and detergent. Therefore, if you want to conserve more water and washing fluid, you know which sink is better.
Maintenance
The maintenance of each sink will depend on the material used to manufacture it. Thus, some sinks may not need much maintenance like the others. For example, in granite composite sinks there is nonadditional upkeep needed.
In this context, single bowls are the best since it requires little effort to wash off dirt, remove scratches and repair chips. More so, double sinks may need quite some buffing on the partitions to clean out marks gotten when baking sheets drop on the sides.
Verdict – Final Word
We've done our part and have reviewed both sinks based on uses, configuration, installation, and cost. We also discussed the pros and cons of each bowl in this informative piece.
Yet, the question remains Which is better – Single Bowl or Double Bowl Sinks? The decision is yours to make! Our only verdict is dependent on the available space, intended use, and of course, your budget. That is to say, we agree with your choice.