Lovers of kitchen trends may tell you that granite sinks are no longer the preferred choice. But in reality, there are no signs that granite sinks are losing popularity. Natural stone mixed with resin provides you with a hard-wearing countertop sink that looks great in every way.
If you're a vintage or retro lover, I'm sure you'll love the masterpiece created with this carefully curated mixture in your farmhouse kitchen.
Most people will confuse two brands to get a quality granite sink. They are Franke and Blanco. Franke is often considered a more affordable brand, while Blanco is a more expensive brand known for its high-end features.
In this article, we will do a complete comparison of Franke vs Blanco granite sinks.
Visual Comparison Of Franke Vs. Blanco Granite Sinks
| | | |
| --- | --- | --- |
| Features | Franke Granite Sinks | Blanco Granite Sinks |
| Construction Quality | Good | Excellent |
| Food Safe | No | Yes |
| Clean Up | Very Easy | A Little Time-Consuming |
| Color Options | Up To 9 | Up To 5 |
| Coatings | No | Yes |
| Noise-free | No | Yes |
| Price | Reasonable | Expensive |
About Franke & Blanco
Franke is an excellent sink and faucet brand that has earned the trust of people for over a hundred years. With regular innovation, excellent service, good warranty options, a wide range of products and reliability that is almost unmatched, Franke has come a long way.
Blanco is also a sink and faucet brand that has been producing exceptional products since 1925. Although they started with less manpower, today they are one of the most sought after and high-quality sink brands in the world.
The quality that Blanco offers can hardly be compared to other brands. As a high-end and reliable manufacturer of sinks and faucets, it has made room for itself in the topmost slot.
Construction Quality
The Franke sink is finished with 4/5 quart sand and 1/5 hard acrylic resin. It has a very elegant finish that is beautiful to anyone. There is no doubt that it has better eye-catching features than any other brand.
Moreover, with its sturdy construction, it has proven to last for a long time in your kitchen. You just need to make sure that you give it enough time for regular maintenance and cleaning. The texture is well made, but not porous. In addition, the finishing touch of the product is usually warm with a subtle sheen that illuminates the entire kitchen.
However, Blanco sinks have strong construction points and some other interesting features. The stone is scratch-resistant and virtually undetectable. This is not a guaranteed feature of Franke. In addition, you don't have to worry about heat damaging the finish because Blanco Silgranit is built to withstand high temperatures. With Franke, that won't happen.
Even with such a minor flaw, Franke is still one of the best in its price range. But compared to the high-end Blanco, it may be a few steps behind in terms of picture-perfect construction.
Color Options
The kitchen sink is usually the least of your worries when planning your home. For a last minute choice, you may want a stainless steel sink. That's because you've already decided on the design of your kitchen, flooring and countertops. Matching a granite sink finish sounds difficult, right? Absolutely not!
Both Franke and Blanco have some very versatile finishes that will match almost any kitchen style sink. Franco has a wide variety of nine colors to choose from. For the simple to the most eccentric of homeowners, there is usually something for everyone.
Those who prefer brown tones can give their kitchen an elegant look with colors like Champagne, Mocha, Oyster, and Franco Storm. There are also dark gray, onyx, oyster, storm, and graphite tones for those who prefer gray or black options.

Now, Blanco also offers a wide range of color options. But it lags slightly behind Franco. In total, they propose six elegant colors that look very sophisticated.
One thing that makes it even better here is that its colors are non-destructive. Due to regular cleaning, sun exposure, or other issues, Blanco granite sinks do not mess up their color concept. It continues to retain.
If you like a timeless look, then a subtle gray may be ideal for you. You can do something creative by choosing a fancy creamy coffee brown or rock-gray warm concept. The more popular anthracite will also make your space really stand out.
With more color options, Franke seems to be the same as Blanco, which offers better color stability. It depends on what you prefer.
Better Functions
The Franke Granite sink is available in single and double bowl designs. It includes a sanitizing treatment that naturally keeps the sink surface free from bacteria. The granite sink is well designed and easy to use. You will love its performance in everyday use.
In addition, it resists stains and temperatures well. However, don't expect it to be an overwhelming choice that can withstand stubborn stains or extreme heat. It looks great for its heat and stain resistance relative to its price, but there are limitations to the price reduction.
With a little care and attention to your sink, you can change your kitchen life with Franke.
The Blanco granite sink is more than just a bowl and drainer. A timeless classic, it certainly has a good name. At the same time, it is very practical for regular and even commercial use. Most restaurants and professional chefs look to Blanco as their first choice for their workspace.
Blanco is definitely better for functionality, and its high-end price tag doesn't seem to be a bad thing for quality-conscious homeowners.
Users like the space between the bowl and the drainer. It's like an extra area where they can easily place vegetable cuttings and peels. A sink can never be too big for a large family. Blanco is the perfect choice for them. With its good size, it features a smart design that allows for multitasking.
If you're looking for great value for money, Franke is a more practical choice with its vibrant colors and healthy price tag. But Blanco wins the race because it offers a better performing inset and horizontal tabletop.
Style Variety
When matching a sink, you can't avoid the tone of the entire kitchen. It's not just the materials that matter, but the overall structure.
Blanco has a wide range of styles to choose from. Their famous apron front IKON sink has been a big hit lately. It comes with a modest statement that makes your decor stand out.
In addition, the award-winning Modex has great space for possibilities. SILGRANIT is a widely used style from Blanco that focuses on installation flexibility. With Precis, you can meet the demands of your profession in an elegant kitchen. The Diamond Series granite sink is an elegant kitchen concept.
There are also two models, called Valea and Vision. you see, one cannot avoid falling in love with its different aura.
On the other hand, Franco is perfect for those who prefer a traditional design to a modern-looking kitchen. However, there are still some modern designs available, but they don't quite meet my expectations.
Overall, comparing the two style options, Blanco has the edge when it comes to sleek, elegant kitchen sinks.
Easy to Clean
Blanco granite sinks have been extensively crafted and coated. As a result, it is absolutely difficult to leave spots or scratches on them. If you are not a rough user, you will hardly need to deep clean it.
In addition, sunlight or other damaging elements of the sink will not damage its surface. A high-quality sink has a good mechanism to survive very tough situations.
However, if you do need to clean it, the process can be a bit daunting. To get amazing results, the manufacturer recommends deep cleaning every four weeks. In addition, you must wipe with a microfiber cloth to keep it dry.
Franke comes with a great formula that fights bacteria and the negative effects of damaging kitchen hygiene. The modern integrated sanitizing and hygiene function is a unique addition to the Franke sink that keeps the surface bacteria-free.
It also reduces the chances of any microbial or dirt growth. With treated materials, you only need to clean them regularly to keep them shining for a long time.
Both Blanco and Franke did a great job, making regular cleaning and occasional deep cleaning in effortless.
Price​
Franke is a reasonable brand that offers granite sinks in a variety of price points. You can expect the pricier options to be better in quality than the cheaper ones. But even the affordable options can provide you with a good set of features that will make your kitchen life easier.
But you can't expect it to be as high quality and long-lasting as Blanco. With maximum stability and sturdiness, the Blanco granite sink has many pre-finished and manufactured advantages that make it a top choice for anyone. That's why it rightfully comes with a higher price tag.
Franke granite sinks can provide you with beautiful and functional features at an affordable price. But even at the high end of the price tag, Blanco is still the undefeated choice for better performance, finish, quality and functionality.
Warranty
Franke offers you a limited lifetime warranty that covers manufacturing defects. This is available for materials and workmanship. You need to enjoy it for normal residential use.
Blanco does the same, but it also offers defective replacements. In most cases, you don't even have to pay for the sip.
There isn't much to compare about the warranty because both brands actually offer similar benefits here.
Drawbacks
Both Franke and Blanco sinks have their own issues that can be a bit strange for users. There is no doubt that Blanco has some very nice and highly functional capabilities.
But its price tag somehow limits many users from experiencing the disappointment of having to go over budget. I believe that Blanco could do better by including some reasonable options to satisfy the money-conscious group.
Franke scores some very high marks with reasonable price point options. However, they still need to fix the quality of their build. With the slightest misstep, spots and scratches can appear, which is really not good.
Both brands offer granite sinks that can break a lot of glasses and dishes. You can't really blame the brand when it's actually the composite material that makes it happen.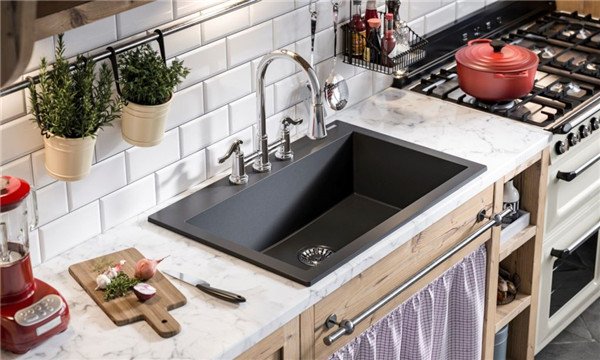 Who Wins the Race?
Franke and Blanco each have their own strengths and weaknesses, which makes them both better than the others in some different areas. However, for the sake of calling it a comparison, if you consider every feature, Blanco seems to be a little ahead of Franke.
Granite sinks are more focused on sturdiness and aesthetics. Blanco and Franke each do their part to provide good functional and aesthetically pleasing kitchen sinks. You're sure to find the right choice from their unique and feature-rich product lines.
Overall, regardless of brand, most parts of the experience will be smooth and easy, but there are some very obvious and almost inevitable setbacks.
Other Quality Granite Composite Sink Manufacturers
Chica Dragon is a China-based company that entered the market in 2008. They researched the science behind granite composite sinks in great detail. Afterward, they applied this research to make top-quality kitchen sinks.
The Quality offered by Chica Dragon is unmatched. They only provide superior quality products. Moreover, they also provide OEM service and a complete supply chain.
Another great thing about the company is how they treat their customers. The company has a lot of brand loyalists as well because of the Quality it offers.
Furthermore, the company's reviews are also great. They accommodate their customers exceptionally well and always deliver on their promise.
FILL IN THIS FORM TO REQUEST A QUICK QUOTE FROM CHICA DRAGON