The kitchen sink plays a vital role in the modern-day kitchen; it's so essential that you'd struggle to live in a kitchen without a proper sink. From cleaning large pots to preparing food, you need to make sure that your kitchen sink is excellent and perfect for your kitchen. 
In this article, I will introduce some convenient and popular sinks in the market.
Workstation sink
The workstation sink is an ordinary sink but adds some specific accessories to make it more functionally. The accessories include bottom grids, drying racks, cutting board, colander, etc.
Benefits of workstation
Maximize the workspace in the kitchen
We all know the feeling of having a cramped workspace, especially in the kitchen.
If counter space is limited, the cutting board accessory adds valuable room for you to work by turning your sink into more countertops!
A drying rack offers a space to put clean dishes without taking up room on your counter.
The bottom grid allows you to stack dirty dishes in the sink while still allowing water and other waste to drain quickly.
Workstation sinks are perfect for the largest to the tiniest of kitchens. Not only are there great options for small homes with limited kitchen space, but they can also be a great option for bar prep sinks.
Help keep things clean, sanitary, and organized.
When you are handing multiple tasks, a working sink can make your kitchen looks clean and tidy. You don't need to stack the dished on the countertop, but use the specific accessories to organize the kitchen efficiently.
For example, with a workstation sink, you can defrosting meat, wash fresh fruit and veggies, and cleaning up dirty dishes at the same time without making a mess in the kitchen.
The accessories like colander and drying rack make an ordinarily sink more functional and easy to store.
Improved Safety
Beyond the benefits of keeping things more sanitary by avoiding cross-contamination, there are other ways workstation sinks can improve safety in your kitchen.
Picking a sink with a colander accessory can simplify your pasta night! Avoid having to manage a freestanding colander or straining lid when pouring out the boiling water and reduce the likelihood of burns.
Nano Stainless Steel Sink
Nano stainless steel sink uses nanotechnology to coat a layer on the regular stainless-steel sink, which allows the surface a feature of oil-free, anti-rust, anti-corrosion anti-bacteria. Some popular colors are black, gold and copper.
Benefits of Nano Stainless Steel Sink
Oxidation resistance, corrosion resistance, chemical stability
The scratch-free, corrosion-resistant feature of nano stainless steel sinks makes them highly durable. They are also UV resistant, and the protective coating makes them free from rust damage and other weather-related damage. They are waterproof, which means all water rolls off the surface instead of seeping through the surface, keeping them dry and reducing mildew and mold development risks.
Easy To Clean and Anti-bacterial
The oil-free layer adds to the surface make the sink easier to clean. The dirt, dust, and grease rolls off the surface of these sinks, All you need is a damp cloth, and you will get the job done.
The coating is also anti-bacterial protection. This is due to the dense and tight PVD coating. The ultra-small particles from the coating make it difficult for bacteria to breed on the sink's surface.
Stylish and colorful design will enhance any kitchen decor.
Various color options are available. As a result, it adds beauty to your customer's kitchen. The design is sure to go with different kitchen themes. You can also find a suitable design relevant to how you have decorated and painted your kitchen.
Large single basin sink
We may get used to the double bowl kitchen sinks. You will get the benefits of it once you start to use it.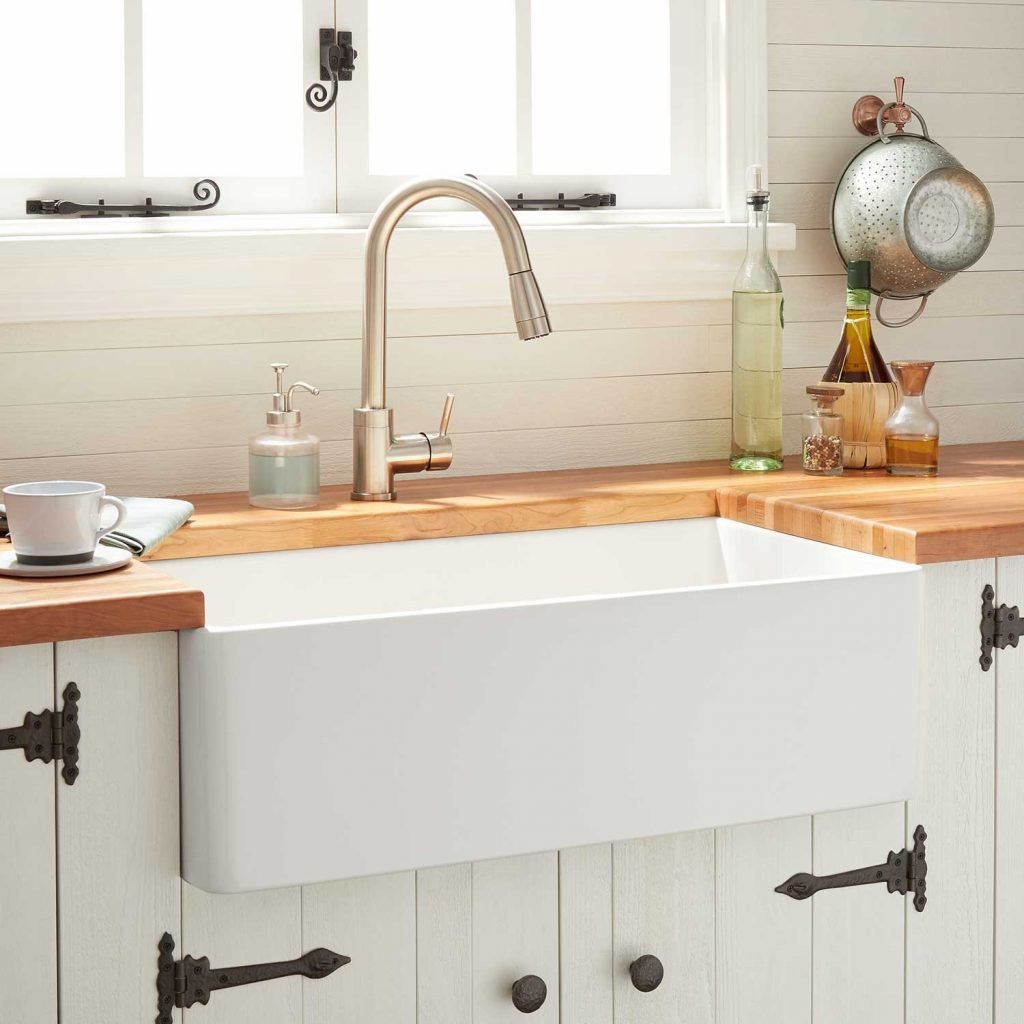 Benefits of Large single basin sink
Incredible beautiful
A large-sized sink makes the kitchen look more generous and looks clean and tidy. It may be an undermount sink or farmhouse sink, but it must be a single large bowl, which the recommended size is 33 inches to 36 inches. 
Easy hide dirty dishes
A large single basin sink hides the dirty dishes well as if you are busy work from home and have no time to clean it. You can put the dirty dishes into a plastic tub, then put them into the sink. Otherwise, you seem to leave them stacked all over the countertops. That makes your kitchen look messy!
Easy washing large dishes
It easily washes big pots and pans. Sometimes you find yourself with large sheet pans or stock pots or even multiple pots and pans that need to soak and be scrubbed.
Having two smaller basins makes this task a bit tricky as you have to kind of tip and rotate them but having a single large Basin sink makes this task so much easier.
You can put multiple dirty pans at the same time, lay sheet pans all the way flat down, and let them soak if needed.
A giant heavy cast-iron pan can lay down flat and scrub it as it has enough room for the large single basin sink.
Room for multitasking
Use the accessories to make the sink become a workstation sink, as we have mentioned the benefits of the workstation sink. But a large single bowl sink makes your sink more flexible as you need.
You can remove the accessories when you don't need them and add what you need at the moment. You can let the unwashed dishes in the plastic tub sit there, and there is room for handling another task.
Granite composite sink
A granite composite sink is an engineered stone made of quartz sand and resin. They come with desirable features that make them stand out among other material sinks regarding resilience, durability, and functionality.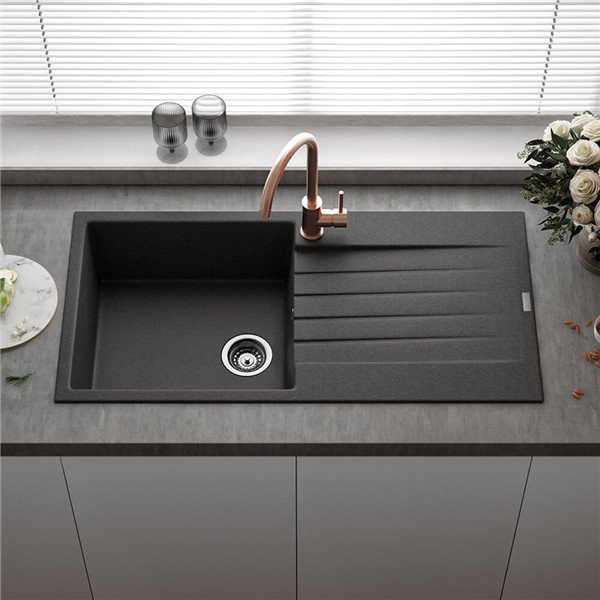 Benefits of Granite Composite Sink
Long-lasting and durability
The composite material makes them a high resistant kitchen sinks to endure pressure, chipping, scratches, heat—the strength they possess to ensure durability and flawless functionality.
Resistant to heat, scratching, and stains
These granite sinks can resist up to over 530 degrees Fahrenheit heat. The color doesn't fade even after a long time because it maintains the same natural look and texture.
Variety of sizes, styles, and shapes
There are many more styles, many more patterns, many more shapes, and many more size options available when choosing to go in this direction, thanks to the hybridization of granite and composite materials. You open up a world of creativity in kitchen design when you decide to go in this direction.
Conclusion
Knowing the current trends is very important, with these trending products will bring you more sales turnover.
I will continue to write about some new trends in the kitchen sink industry. If you like this post, remember to follow or subscribe.